The Overwatch League 2020 Playoffs are slowly concluding the competitive season. Indeed, the tournament for both regions of Asia and North America are done. Accordingly, four teams have made it to the Grand Finals! Here's a short recap.
Overwatch League 2020 Playoffs – North America
Kicking off with the NA region, 13 teams battled through the Play-Ins. Competing for the majority of $625,000, the stakes have never been higher.
As we previewed, the favourites were Philadelphia Fusion and San Francisco Shock – neither failed expectations.
Here's how the both sides of the bracket boiled down. Remember, only the individual champions from the Winners' and Losers' bracket qualify for the Grand Finals.

From the Winners' side of things, not many surprises shocked the community. However, San Francisco Shock almost lost to Washington Justice in an incredible series which went the distance.
A showdown between Philadelphia and San Francisco was imminent, and so it took place. Despite Philadelphia taking first seed in the regular season, San Francisco Shock came at them with a certain fire. Thrown into the Losers' Bracket, Philadelphia manage to regain and claim the second seed.

Overwatch League 2020 Playoffs – Asia
On the other hand, running in parallel with fewer teams, Asia offered an identical format. Indeed, only 7 franchised rosters competed for $325,000. Regardless, two seeds are on the table and only the victors from both brackets claim them.
Here's how both halves of the bracket played out: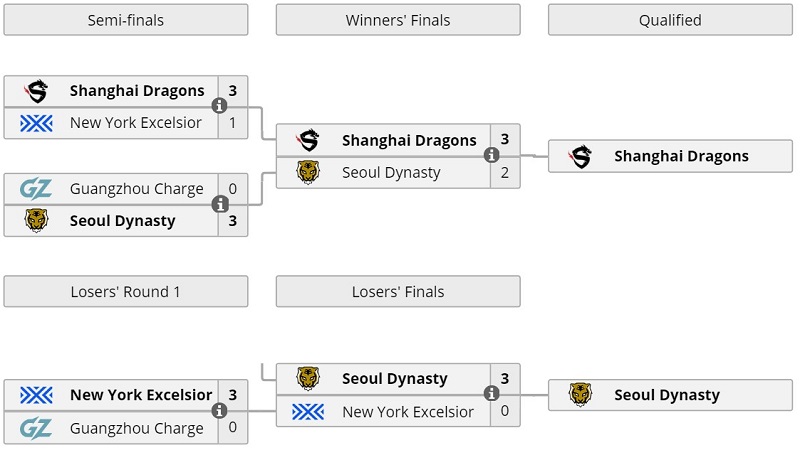 Unlike the North American Playoffs, massive upsets were witnessed here. Everything revolved around Seoul Dynasty, the fifth seed from the regular season.
Therefore, starting in the Play-In, they went on an incredible journey. The community was stunned when Seoul Dynasty destroyed Guangzhou Charge in a 3-0 sweep, being the second seeded team.
As shown above, they then pushed Shanghai Dragons the distance, falling short by a map. In the Losers' Bracket, they took care of New York Excelsior and are your second seed. Shanghai Dragons rightfully claimed first seed.
One month remains until the Grand Finals. With $3,050,000 on the line, the four best teams in the world will fight for glory:
San Francisco Shock
Philadelphia Fusion
Shanghai Dragons
Seoul Dynasty
For more esports news, visit: https://www.esportsguide.com/news.