Depending on the format of the esports tournament, qualification will range in complexity. Regardless, the aim of qualification is ensuring that only the top teams make it to the event. Indeed, in this episode of Understanding the Industry, we're looking at Qualification in Esports.
Chiefly, there are two main routes through which organizations may qualify for events. However, first we need to understand another concept, that of 'first-party' and 'third-party' events:
First-party event – organized by the game developer and is the Premium/Tier 1 level of the esport. An example is The International , hosting by Valve.
Third-party event – organized by an independent event organizer such as DreamHack or FaceIT. An example is the DreamHack Open Summer 2020.
Accordingly, these two types of events will usually lean in one direction when it comes to qualification. Using either a Points Qualification System or Seeding by Placement, both have their benefits. Let's take a look at the two most common paths for qualification in esports.
Points Qualification System
First-party events, at the highest level of an esports scene, are parts of a 'circuit' or 'season'. Rounding off each season is a staple event which year in and year out, crowns a world champion. In order to qualify for this career-defining event, points must be garnered across the entire year. By earning enough points, teams may grant themselves a seed. Hence, the more points gathered, the better the seeding.
Across the season, the event co-ordinator spreads out the points depending on the intensity of the event. Usually, spikes of points are present at regional events and less at lower tier tournaments. For example, here is Valve's preliminary schedule for the Dota Pro Circuit for 2020-21:
By earning points, this season, the Valve is inviting the top 12 to The International with $20,000,000 on the line. Sadly, Valve is cancelling this year's event: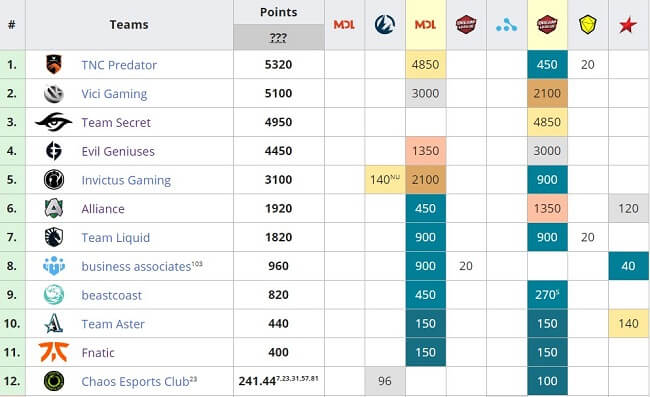 Of course, Dota 2 isn't the only esport that follows this format. Another example amongst many is Rainbow Six Siege. Here, everyone's fighting to qualify for the Six Invitational. In this case, 'Six Invitational Points' are earned seasonally to grab a spot.
In the standings above we can also see the other form of qualification – that of Seeding by Placement.
Seeding by Placement
When it comes to third-party events, however, it's more likely that it's a 'one-off' not tied to a season or circuit. Hence, in order to determine contestants, a qualifier event is organized. Chiefly, this means that if you don't show up at the qualifier, there's no cushion of previous performances to rely on – failing here means no entry to the event. Bearing this in mind, these events tend to offer an Open Format, unlike esports franchises, where any team can make it with enough skill.
An example here, is the OMEGA Pro League – Europe Division. Although most spots are taken up by direct invites, two spots have been left for the Closed Qualifier. To get to this stage, the organizations had to first go through an Open Qualifier – one more hurdle remained:
From the hundreds of teams which may have contested, from the top 16, only the top 2 get to fight it out with the big boys. Honestly, it's incredibly brutal and that's how it's assured that only the best make it. Such formats are commonplace in Tier 2 and Tier 3 esports such as Call of Duty League Challengers and Overwatch League Contenders.
Mixed Qualification in Esports
There is no rule when it comes to qualifying. Not all first-party events use points and not all third-party events use qualifiers. The method varies between each scene and each event. One thing to note though, is how both systems are oftentimes used in tandem. As viewed above, the majority of teams may be invited based on points while the remaining spots are filled out through qualification.
Do note that certain scenes are different, such as those with franchising. These will use qualification for the post-season events, such as the Call of Duty League Playoffs. Also, third-party events may directly invite teams based entirely on bias, asking that team to join regardless of achievements or points.
To conclude, qualification systems are constantly being innovated, just like the rest of the esports industry. Striking a balance between being inclusive and competitive is essential to hosting an incredible event.
For more esports news, visit: https://www.esportsguide.com/news.
To view esports matches with live updates, visit: https://www.esportsguide.com/.