Today's earlier broadcasts
Betting Sites
Highlights
Innovation and modern design
Great esports coverage
Clear UI
Easy to place a bet
Bonus
50€ free bet if your first bet is lost
Bonus
50€ free bet if your first bet is lost
Highlights
Innovation and modern design
Great esports coverage
Clear UI
Easy to place a bet
Highlights
Great esports selection and betting markets
Regular bonuses and promotions
Easy and fast to sign up
Competitive odds
Highlights
Great esports selection and betting markets
Regular bonuses and promotions
Easy and fast to sign up
Competitive odds
Highlights
Exceptional esports betting
Excellent multilingual support team
Mobile-Friendly site
Exclusive odds
Highlights
Exceptional esports betting
Excellent multilingual support team
Mobile-Friendly site
Exclusive odds
Highlights
Coverage of all major tournaments
eWallets
In-place bets
Bonus
Get up to $30 in free bets
Bonus
Get up to $30 in free bets
Highlights
Coverage of all major tournaments
eWallets
In-place bets
History
StarCraft II (also known as SC II) is a real-time strategy game in the science fiction genre and a sequel to the original StarCraft, developed by Blizzard Entertainment. The standard game which was launched back in 2010 has gained great popularity. From its inception, it's been a favourite not only for first-time players but also as a well-respected esport in its own right. This fame has helped to create even more content for players in the form of expansion-packs titled Heart of the Swarm and Legacy of the Void, as well as the campaign pack Nova Covert Ops.
Gameplay
The game itself revolves around three different species – the Terran, the Zerg and the Protoss – each of which wants to conquer the galaxy. Each species has its own unique strengths, so choosing which species to play as can have at least some impact on how the game is approached strategically. Of course, that variety also helps this game to feel fresh and exciting no matter how many times it is played, or how many times you watch SC II being played.
Tournament History
The original Star Craft game was one of the main titles that helped esports to establish itself in South Korea, and Star Craft II: Wings of Liberty took up that baton and helped the popularity of eSports to spread globally. The first Star Craft II eSports live tournaments were held in 2010, and the game featured at Dreamhack in Sweden in November of that year.
After seeing Start Craft II become the biggest esport game in the world by the end of 2011, Blizzard Entertainment organised the World Championship Series, which made its debut in 2012. The purse for the first final of that series, which was held in Shanghai and involved the top players from around the world, was worth $250,000. The purse remained at $250,000 for each of the global finals from 2013 to 2015, and then doubled to $500,000 in 2016.
In 2017 and 2018, the prize fund weighed in at an even larger $700,000. South Korean players have dominated the World Championship Series from the very start, winning every Championship from 2012 to 2017. That pattern was only broken in 2018, when the tournament was won by a player in Finland. StarCraft II tournaments have had an exciting past and look certain to deliver even more excitement in the future. Stay tuned at Esportsguide to keep up to date with all live and upcoming matches.
Guide
A Brief Background
Starcraft is a real-time strategy game series published and developed by Blizzard Entertainment, with the newest release being Starcraft II. The first game in the series was released for Microsoft Windows on March 31, 1998. The gameplay is based around 3 different races being the Protoss, Terran and Zerg, which all are designed to function very differently and require completely different playstyles. The goal of the game is to build and defend your own base whilst also destroying all of your opponents' buildings to eliminate them from the game.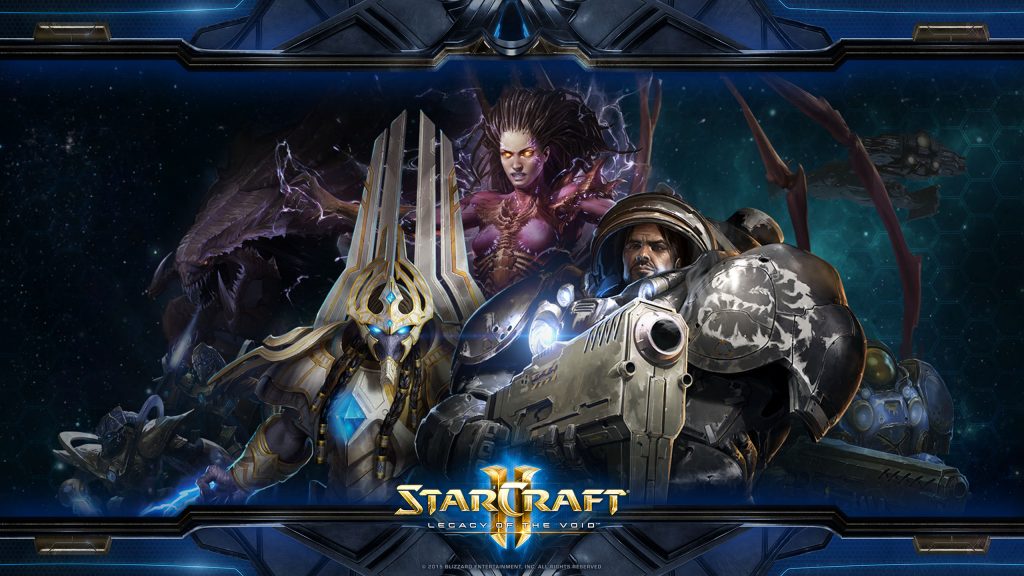 The game has single player modes that tells a story with a campaign for all the different races, but the game has mostly grown to being as popular as it is, due to its different multiplayer modes. The game requires the players to plan and execute their strategies at a very high pace while keeping track of a lot of different resources and situations on the map, and it's very important to maintain a high action per minute (more commonly referred to as APM). This is the reason for its popularity on the esport scene as it forces the professional players to very high and intense levels of gameplay.
The starcraft series has had a big presence on the esport scene pretty much from the get-go and have been considered being one of the biggest esport games in the world. In later years these numbers have declined, but it's nonetheless still a very popular game. It's been played professionally all over the world, but history tells us that it's made the biggest impact in South Korea, where they even have cable channels that broadcasts games and tournaments. Due to it's huge popularity in South Korea, the local professional players treated as famous people, and they recieve no less attention than the local moviestars.
How to Play
As mentioned above, you can play the game in single player mode, which will tell you the story of the different races together with a campaign of various missions and objectives spanned over several maps. There is also co-op mode and custom game available to play, either with bots or with other players. Each race in the game have very different play styles, but Blizzard has still managed to keep the balance between them and none is really better than the other, it's all up to how it's managed by the players.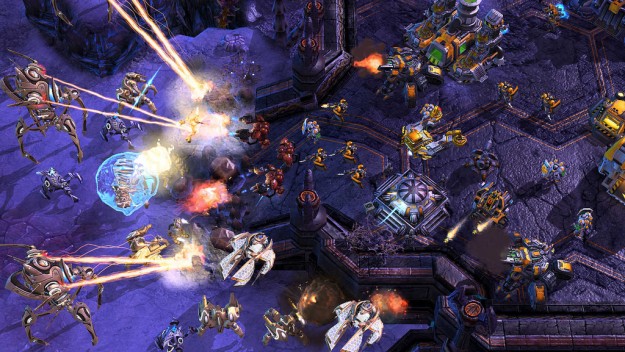 The Terran race shines when it comes to zone control and harassing your enemies. The Zerg race is all about having a big grind of resources and huge economy which will allow you to constantly attack your enemies with assaults, since the Zerg can build a lot of units quickly. The Protoss race have very cost-efficient units, an although they are slow, they deal more damage and are healthier than the other races. There's a lot more differences that separate the races, but playing them all for yourself is the best way to get a proper feel for for them to find which of them mostly suits your own play style.

However, the multiplayer mode is where the real action lies and this is what's played on the professional scene. The goal in these modes is to eliminate your enemies by destroying their base. Early in the game, all players will focus on collecting a range of different resources that's needed to produce new units or establish new buildings.
There's a lot of different types of buildings and units to construct, and that's where players make use of their own strategies of what to build first and how to prioritize. It is also very important to try scout the surrounding areas early into the game to look for either new resources, or the enemy's base. If you feel confident and have created a couple of units, you could try an early attack, but this can be a very risky move and could put you in a bad spot later on.

If all players survive the early game, they will then move on to battle for space on the map. They do so by claiming as many resource locations as possible, while also making sure that the enemies get as few as possible. At this stage, it's also very important to try and build up your army of units and get your base as strong as possible to be sure that you can survive possible attacks.
To weaken your enemy at this stage, you could try to destroy your enemies' tech and production buildings which are used to research upgrades and build more advanced units. You can also send attacks to your enemies resource locations to harass them and keep pressure on them.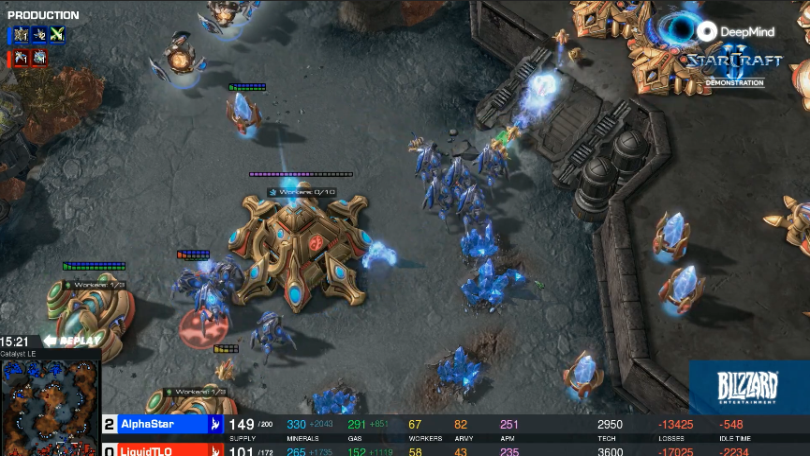 During this part of the game, a lot of focus from the players will be to obtain as much resource control as possible, since this will allow you to build more and stronger units quicker than your opponents. If you are losing control at this stage, there's a lot of different ways to try and break your opponents strategy, but after a while, one player will have more control, and this is when big attacks towards the main bases start.
The most common thing to happen at the end game is that the stronger players start sending huge amounts of combat and other advanced units towards the other players bases to try and wreak havoc on all main buildings or simply just eliminate all its units and workers. At this stage the defending player will usually surrender as soon as he realises that he won't be able to survive the attack.
How to Watch
Since its release, Starcraft gained a lot of traction within the esport scene in Korea and was even broadcasted through some cable channels. After its popularity in Korea, Blizzard founded the StarCraft II World Championship Series (WCS) in 2012, and since 2013 there has been several individual leagues over world that's been included in its system.
For example, the Korean Global StarCraft II League (GSL), allows players to qualify for spots in the Global Finals which is held by Blizzard annually at their big convention Blizzcon. Dreamhack, the swedish company that arranges several huge gaming conventions and LAN parties over the world have also arranged tournaments that has given players spots in the WCS.
To stay updated on the official world league you can visit Blizzards official website linked below. There you can make sure to have a good overview of which teams that are playing, see leaderboards, statistics and also watch live-streams of tournaments and matches. The official website for Team Liquid also have a good overview of upcoming events, and the right tab of the website usually has a nice list of streamers that broadcast the game.