ESL have opted to reveal their plans for their tournaments and competitions in 2021. Here is their announcement:
ESL reveal plans for competitions 2021 – What are they?
The principal scheme for ESL in 2021 is to try and host a majority of ESL and DreamHack tournaments as in-person competitions, situated in a controlled studio environment. This doesn't exactly mean that LAN (offline) events are back, however, it's one step forward in getting back to normality in esports.
ESL have said the following regarding their plans for competitions in 2021:
"Due to the ever changing landscape, we will continue to evaluate each individual tournament in order to ensure we are consistently making the right decisions for our players, crew and staff and especially for when we welcome back fans to our events."

Source
ESL added that they would like to return to regular live events with live audiences by at least November. But they will have to dictate their judgement alongside local and global guidelines, which might change, depending on how the pandemic develops.
With this statement, ESL have also revealed a couple esports events (CS:GO & Dota 2) that will consist of a live audience. Here they are below: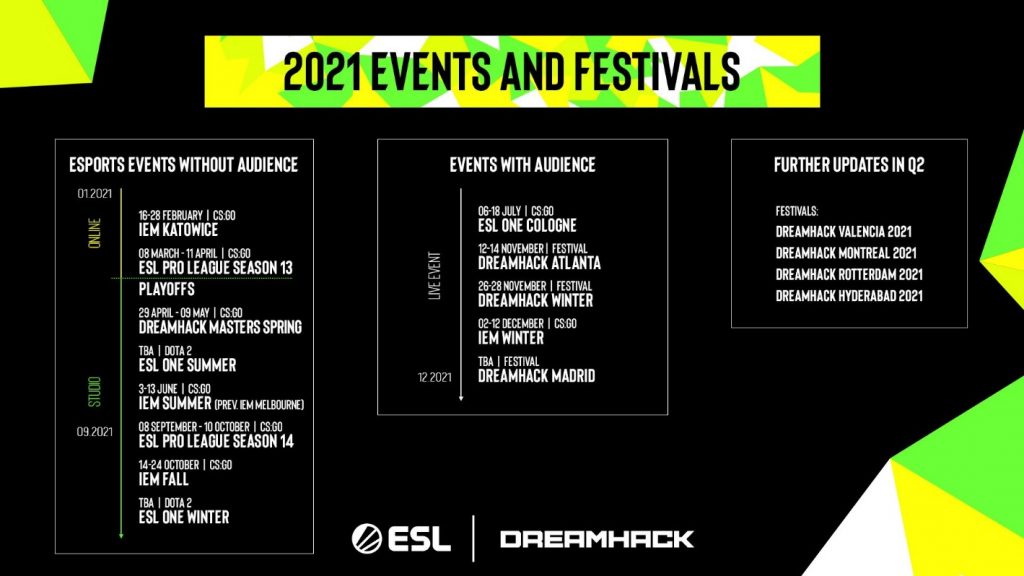 What does this mean?
ESL choosing to reveal their plans for competitions in 2021 is a great sign. This means that they want what's best for esports and all its fans that wanted to watch these events. Even though they won't be allowing live audiences at events just yet, it's still great to see that they are addressing these things early on in 2021.
Be sure to keep yourself updated with all the important esports news by tuning into www.esporstguide.com!