Today we saw the debut of the PUBG Mobile Global Championship and we saw the first 6 rounds of the event. In this article we'll be covering the Week 1 Day 1 recap.
PUBG Mobile Global Championship – Match Briefing
Round 1
In the first round we saw team Loops having an extraordinary game after grabbing the win with 11 kills. Close in 2nd came team Klas DA with only 4 kills, and in third we saw NOVA Esports with an astonishing 13 kills.
Round 2
In round 2, Team Secret took the lead, getting a chicken dinner and getting 11 eliminations. Jin placed 2nd with 9 kills, and Execute Esports placed 3rd with 10 kills.
Round 3
In the third round, Team Secret took another win, but this time round they had far less eliminations as they ended the game with only 5 kills. Blue Bees came 2nd with 7 kills and Futbolist came in 3rd with an astonishing 11 kills.
Round 4
Round 4 had team Loops leading the pack, gaining a win with 12 kills. Zeus placed 2nd with only 3 kills and team Blue Bees secured another good placement by placing 3rd with 5 kills.
Round 5
In the fifth round we have A7 grabbing the win with a sheer amount of 11 kills. Closely behind them in 2nd was team RRQ Athena with a larger number of kills, ending the game with 13. And lastly in 3rd we have team 4AM which ended the game with 5 kills
Round 6
In round six, Natus Vincere played to the best of their abilities and achieved first place with 13 kills. Team Futbolist came 2nd with 3 kills only, and team ArCher came in 3rd with 4 kills.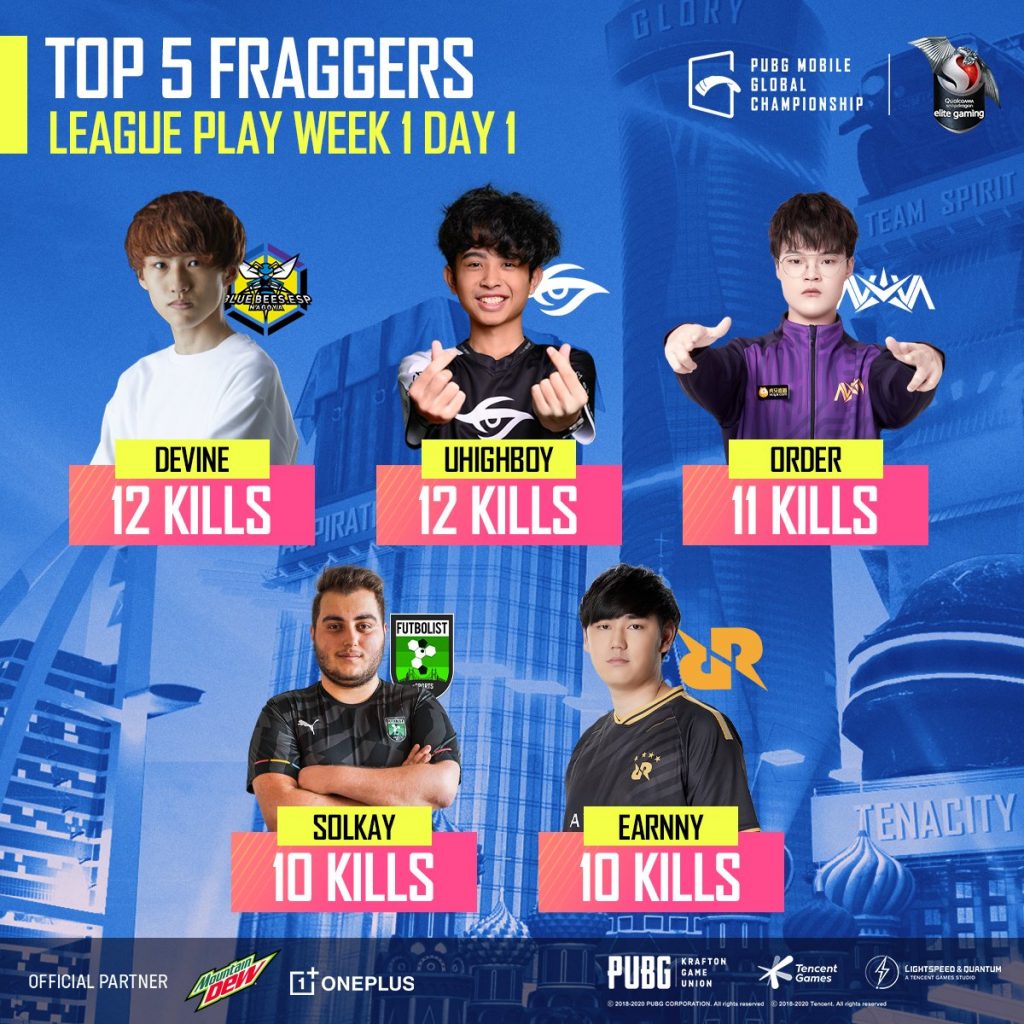 Current Leaderboard Rankings
Secret – 63
Loops – 60
FTB – 58
NOVA – 45
BLUE BEES – 44
RRQ Ath – 42
A7 – 39
Na`Vi – 38
4AM – 32
KP – 32
EXE – 31
Klas DA – 30
ArC – 29
AW LIMAX – 28
TSJ – 24
ZEUS – 23
BTR RA – 20
GOD – 20
A1 – 13
TU – 12
AS – 10
DRS – 9
EUT – 6
PW88 – 5
Even though Team Secret is currently in the lead, with many more rounds of play we can easily see an underdog team climbing up the ranks over time. 

Make sure you keep yourself updated with www.esportsguide.com for more esports news!