Ever since its release, we've believed in the esports potential of VALORANT. Accordingly, after its first year, there's been an overwhelmingly positive response from the community. Indeed, there's a demand for growth, bigger events and greater prize pools. Riot Games is answering through the VALORANT Esports 2021 roadmap!
VALORANT Esports 2021 – Reaching for the Stars
The newly announced 2021 VALORANT Champions Tour is the centre of next year's Tier 1 scene. To do so, the VCT structure will consist of three tiers:
VALORANT Challengers – regional competition
VALORANT Masters – top teams from each region claim seeds for Champions – 3 times a year
The VALORANT Champions – the best of the best, crowning a World Championship – 2-week-long tournament at the end of the season
Summarized in one list, we have 8 events to look forward to for next year's VALORANT Esports 2021:
February – VALORANT Challengers 1
March – VALORANT Masters 1
April-May – VALORANT Challengers 2
June – VALORANT Masters 2
July-Aug – VALORANT Challengers 3
September – VALORANT Masters 3
October – Last Chance Qualifier for Champions
November-December – VALORANT Champions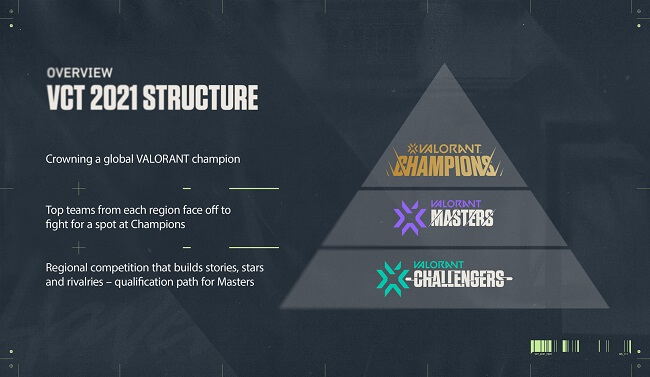 So, what else can we tell you? To begin with, Challenger Final tournaments and Majors will be held online. Accordingly, performances at MASTERS will determine your seed for Champions.
Indeed, Riot Games has expressed a strong interest to host the Champions event offline. Hopefully, this will be possible.
Note that besides the Tier 1 structure, expect third party organizers such as DreamHack, BLAST and ESL to punctuate the season with events of their own.
For more esports news, visit: https://www.esportsguide.com/news