Heading into the 2nd act of Episode 2, Riot Games have added a couple of VALORANT competitive changes. Here's everything you need to know.
VALORANT Competitive changes – What are they?
With a new act, players are usually required to finish off their placements before getting their actual rank. This patch however, will no longer lower the ranks of players if they had already placed in Episode 2 Act 1. After your first match (the placement) in Act 2, you rank will be shown. Although if you haven't played a competitive game in Act 1, you are required to play out all 5 placements before your rank is visible.
Regional requirements for Radiant cut off:
LATAM & KR: 100 RR
BR: 200 Rank Rating
NA & APAC: 300 RR
EU: 400 RR
What else was changed?
The VALORANT ranks are not going to be shown in Agent select or in-game any longer. However, they will still be available at the end of the game. One cool thing that Riot have added is that they have widened the group of ranks to play with.
Riot have acknowledged that a huge part of their community are at the lower ranks. In order to help the lower ranked players learn and improve, they have lessened the rank disparity which will allow Iron 1 players to play with Silver 3 players. Here's an image showing how it will work: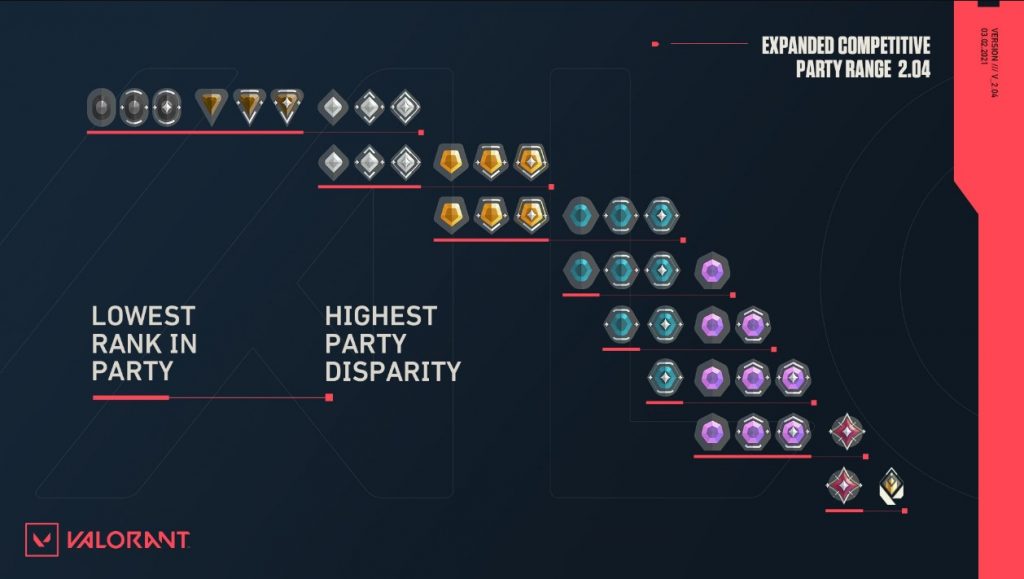 What's next?
It's very important for Riot to focus on their competitive side of things. With the VALORANT Champions Tour taking a huge chunk of prioritization, it's important to keep those at the top of the game (as well as those at the bottom) excited about ranked play.
Visit www.esportsguide.com for more esports news!