As you may know, Riot Games have amped up the format for VALORANT competition this year. Recently, the starting dates for the VALORANT Champions Tour 2021 have been revealed, kicking off with the VALORANT Challengers. 
What is the VALORANT Challengers?
The VALORANT Challengers event is going to be the first of many big regional events around the world. Each region will be having it's very own individual event, similar to First Strike. This tournament will follow a similar structure in terms of format as well, as it will be kicking off with an open qualification system. Meaning that any team which is deserving of their spot, can compete and earn it! 
VALORANT Champions Tour 2021 starting dates
As stated above, the VALORANT Challengers event, which is part of the VALORANT Champions Tour 2021, will be taking place on different dates for each region. The majority of the VALORANT Challengers will be kicking off late January or early February. Here below is a list of the regions, along with their dates.
Brazil – January 30th
CIS – February 11th
Europe – February 11th
Japan – TBD
Korea – January 30th
Latin America – January 26th
North America – February 3rd-7th
Middle East – TBD
South East Asia – February 5th
Turkey – February 11th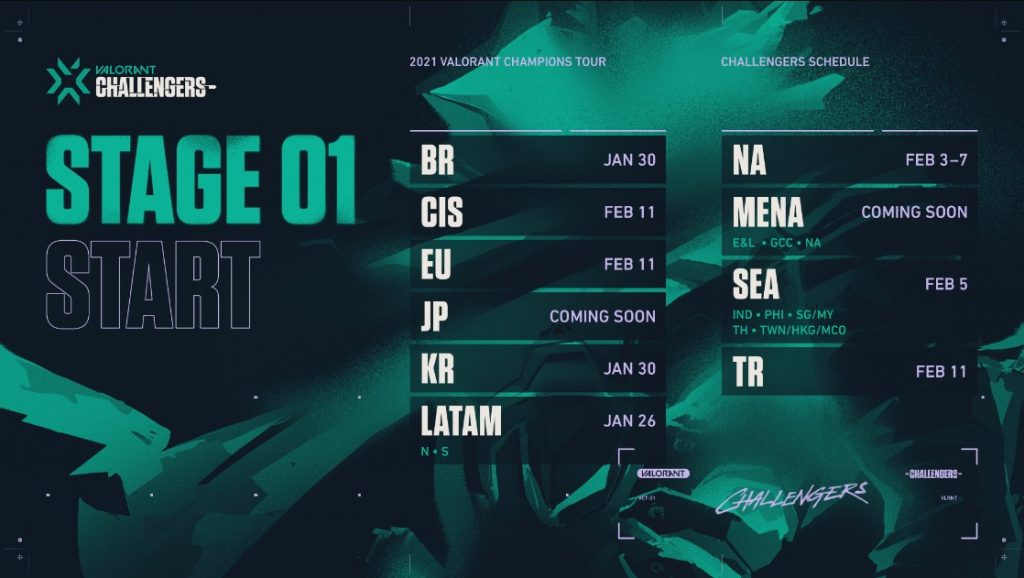 This year is going to be one of the biggest for Esports, especially when it comes to VALORANT. The rest of the dates are still yet to be announced, so until then, be sure to keep yourself updated on www.esportsguide.com for all your important esports news!