If you're an Overwatch fan – strap yourself in. Indeed, Blizzard just revealed some exciting new details with regards to the Overwatch League 2021. In this short article, we've got all the details in one place!
Overwatch League 2021 – A New Schedule
We finally have our date – Friday 16th April! Viewable here, the schedule revolves around four tournament cycles, similar to the Call of Duty League. These teams will be fighting to qualify and earn seeds for the first Major of the year.
Two Regions
Accordingly, games will take place across two regions:
East – Chengdu Hunters, Guangzhou Charge, Hangzhou Spark, Los Angeles Valiant, New York Excelsior, Philadelphia Fusion, Shanghai Dragons and Seoul Dynasty
West – Atlanta Reign, Boston Uprising, Dallas Fuel, Florida Mayhem, Houston Outlaws, London Spitfire, Los Angeles Gladiators, Paris Eternal, San Francisco Shock, Vancouver Titans, Toronto Defiant and Washington Justice
Prize Pool
There's a lot on the line here – a total of $4,250,000 of prize for the entire year! Accordingly, everything will be broke down as follows: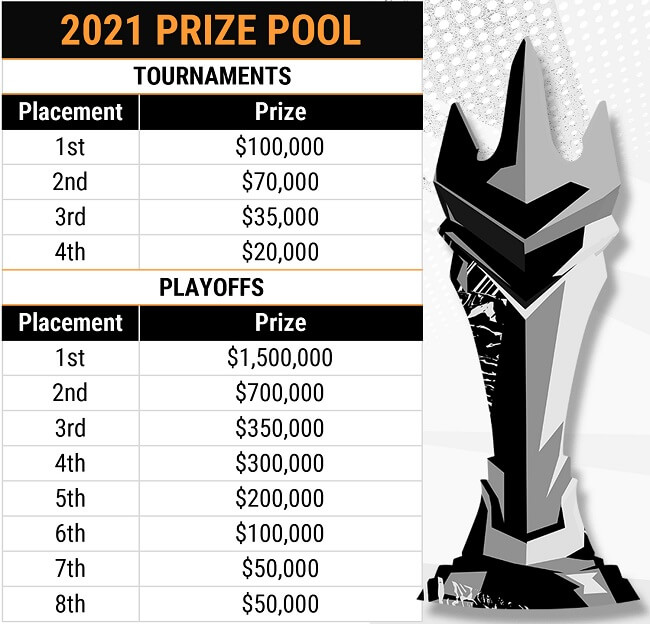 And as you can expect, everything will be available on YouTube with live broadcasts. Beyond that, you'll also want to stay tuned to esportsguide for all the news.
Further on, we'll be working on a How to Watch for all of you to enjoy!
For more esports news, visit: https://www.esportsguide.com/news