Indeed, it's been a couple of weeks since we checked up on the LCK. Yet, not much has changed with regards to the standings. Accordingly, with a few weeks left, here's an LCK Spring 2021 Week 7 recap for you to enjoy! Note that there are only a couple of weeks left until the season's through.
LCK Spring 2021 Week 7 Standings
Without further delay, here's how the teams currently stack up: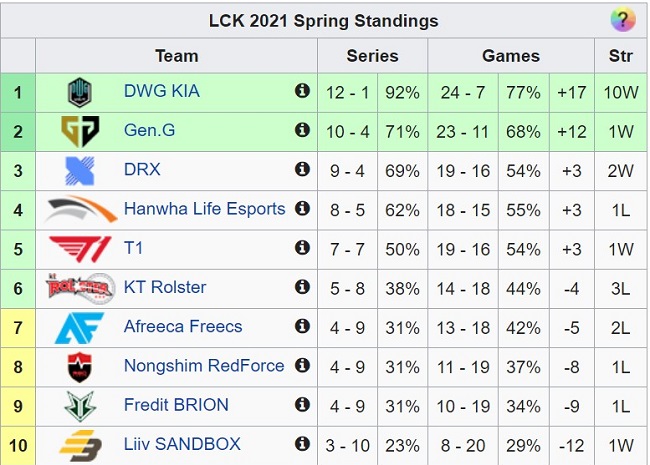 And now, as we've been doing for other recaps, we'll be diving into some key matches which shaped up the leaderboard this past week:
Gen.G vs Liiv SANDBOX (0-2) – it honestly must be so frustrating to be a Gen.G fan. With a potential guaranteed 2nd place finish, they manage to lose to the literal bottom team. Like that, they remain within arm's reach of a hungry DRX
DWG KIA vs Afreeca Freecs (2-0) – while AF try to break Top 6, Damwon continue on their incredible 10 win streak to establish their dominance further
T1 vs KT Rolster (2-0) – a fight for the middle of the pack, T1 have given themselves a 2 win cushion to guarantee a top 6 position while KT Rolster remain in the danger zone
With the remaining two weeks, we don't know what to expect. Regardless, the action continues with Week 8 starting on 11th March.
For more esports news, visit: https://www.esportsguide.com/news