Next weekend we'll be having one of the most anticipated CS:GO tournaments of the year. This is because CS_Summit 8 is going to take place, featuring some of the best North American teams. Here's your full tournament guide of the event:
Tournament's background
Beyond the Summit, often abbreviated to BTS, is an esports production company focused on creating very particular esports events, shows, as well as content. This will be the 8th edition of the CS_Summit series for CS:GO and will be one of the first events to include mainly North American teams.
How to qualify for the main event
All of the teams that are participating in CS_Summit 8 have qualified due to their Regional Major Rankings in North America. The other 4 spots for the event are being given to those teams that qualify first through open qualifiers, and then through closed qualifiers.
Prize distribution
A total of $50,000 will be given out to all participants taking part in the event. Along with prize money winnings, high placing teams will be receiving a significant increase with regards to RMR points. This is how the prize money will be distributed:
1st – $17,000
2nd – $10,000
3rd – $7,000
4th – $5,000
5th – $4,000
6th – $3,000
7th/8th – $2,000
Tournament Format for CS_Summit 8
The event will start with a group stage. Here, 8 teams split into 2 groups of 4 and battle it out between each other in a best of 3 format. The top 3 teams of each group qualify for the playoffs, eliminating the bottom team. Then when it comes to the playoffs, it is formatted with a Double-elimination bracket where each series is a best of 3. The grand finals on the other hand is played in a best of 5 format.
Teams Participating
The event is still going through its closed qualifier phase, meaning that there are still teams fighting for their spot in the main event. However, the four teams that were invited, are the following:
Evil Geniuses
Extremum
FURIA
Team Liquid
The other teams in the closed qualifier are:
Bad News Bears
Extra Salt
GODSENT
paiN Gaming
O Plano
RBG Esports
Triumph
Team One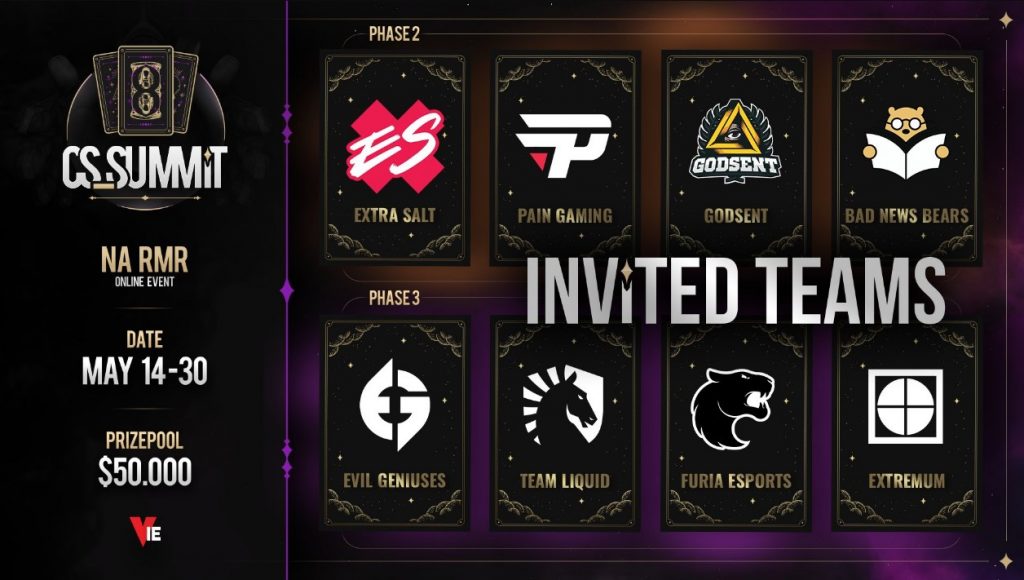 Schedule list for CS_Summit 8
The event starts on the 20th of May and will keep on going till the 30th. The event kicks off with the Group Stage, starting with group A. The teams are not yet finalized, so the groups have not yet been decided. However this is how the first 2 days of the event will play out:
Group A – May 20, 2021
Group B – May 21, 2021
Group A – May 21, 2021
Group B – May 22, 2021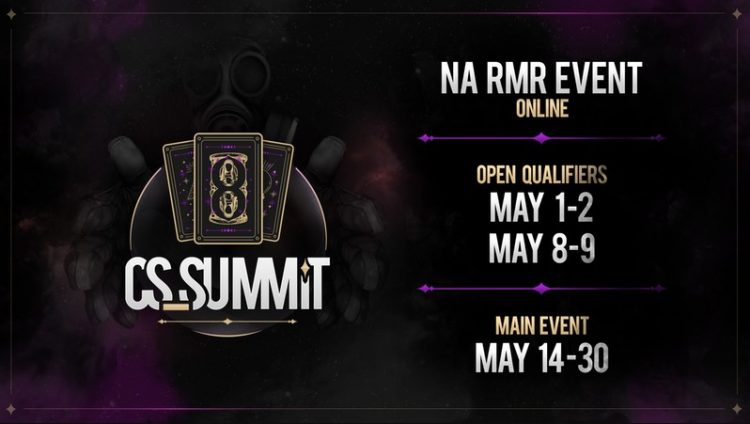 Streaming platform list
The event will stream on the official BTScsgo twitch channel here. In true Beyond The Summit fashion, extra content and spicy stuff will upload to their youtube channel here.
Watch the cs_summit 8 stream on esportsguide.com
You can also watch the cs_summit 8 live stream via our very own website. Providing an extensive list of the biggest esports together with streams for each esports match live today or upcoming matches.
CS_Summit 8 Predictions
North American CS:GO is in a very peculiar state at the moment. Due to VALORANT and the mid-season flight towards Europe, NA CS:GO is very shaky. A lot of roster changes have been made, impacting both players and coaches. Lately we've seen a lot of solid performances coming out of both FURIA and Team Liquid. If we had to put our predictions on two teams it would have to be them. In the end we'll just have to see how it all plays out!
Be sure to keep yourself updated with www.esportsguide.com for all your esports news!