It has been made public that CIS team Gambit Esports have reach #1 on the HLTV rankings. Here is their announcement:
Gambit reach #1 on HLTV Rankings – How?
As you may have seen in recent events, Gambit Esports have been a very clear dominant team when it comes to European CS:GO. In the past few events the team has exceeded everyone's expectations, winning the IEM XV World Championship, and eliminating multiple tier 1 teams in big events. Now the team has recently had another successful performance as they placed 2nd in the ESL Pro League Season 13. This heavily contributed towards their ranking points, and if they keep this up, they just might stay there for quite a while.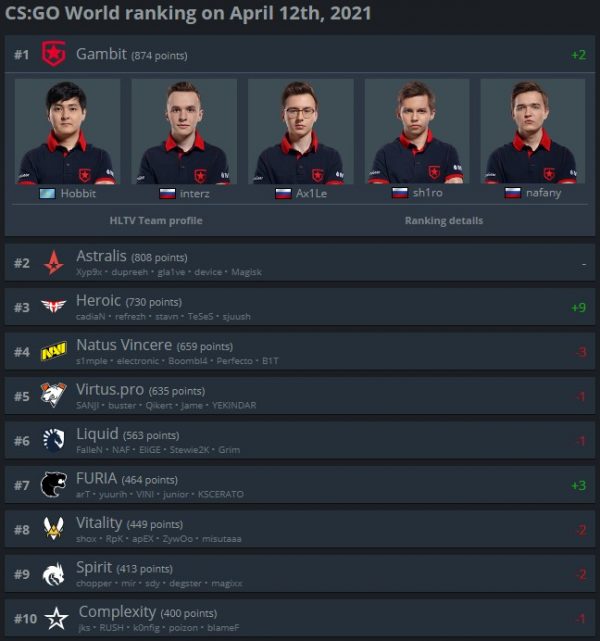 Gambit reach #1 on HLTV Rankings – Gambit's Origins
The core members of the team originally joined in April of 2019. After a couple of months they made some changes, and the team started to win solid Tier 2 events. Then in 2020, the team brought on veteran player Abay "Hobbit" Khassenov to the team, and it immensely improved their team chemistry. They tried to make it work with a 6-man roster but it just didn't click. They parted ways with 1 of their players (Supra) and the team was promoted as the main Gambit Esports lineup.
What's next?
The next event for the team is the BLAST Premier Spring Showdown, which will determine which teams will make it to the main event. A top 2 placing is necessary for the team to make it to the BLAST Premier Spring Finals. And we're sure they'll manage to do so, if they continue playing like they are at the moment.
Visit www.esportsguide.com for more esports news!