For those unaware, the last time Halo enjoyed a championship event was back in 2018. Accordingly, 4 years later, Halo Infinite is delivering with the Halo World Championship 2022. Read on as we preview the competition while ranking the competition in our predictions!
Halo World Championship 2022 – Setting the Stage
The Halo World Championship is the climax of the Halo Championship Series. Organized by 343 Industries, the event will toss $1,000,000 on the line for the top 20 teams in the world.
Taking place offline in the Seattle Convention Center, the event will run from the 20th to the 23rd October.
Regardless of the money and who's participating, pride is on the line here. Specifically, winners are crowned in the history books – this is the most important event of the season!
Bearing this in mind, here are all the competitors ranked:
Group Stage
OpTic Gaming
Cloud9
FaZe Clan
Sentinels
eUnited
G2 Esports
Gamers First
Oxygen Esports
Natus Vincere
Native Red
Team WaR
TSS Esports
Play-In:
Fnatic
Complexity Gaming
Acend
JLINGZ esports
Spacestation
Team Cruelty
Chiefs Esports Club
Divine Mind
Understanding Format – Favourites in Pool Play
Naturally, the format tells a story with regards to predictions.
Specifically, teams in the Play-In are low seed, while Pool Play are high seed. Basically, teams in the Pool Play seeds are more likely to win than those in Play-In.
Bearing this in mind, our predictions will focus on a potential winner emerging from the 12 Pool Play seeds as listed above.
As a reminder, here's how the teams earned the spot, by placing as follows at HCS Orlando Major earlier last month:
#1 – OpTic Gaming
#2 – Cloud9
#3 – FaZe Clan
#4 – Sentinels
#5-6 – G2 Esports, eUnited
#7-8 – Oxygen Esports, Gamers First
#9-12 – Natus Vincere, Team WaR, Native Gaming Red, TSS Esports
With the event taking place so recently, these standings are rather reliable.
Regions Rumble – NA Teams Favoured
One thing to bear in mind, is that European and North American teams will all be competing under one roof. Considerably, this past season reaffirmed that North American teams are simply better than European – a winner will likely be from NA.
Considering this fact, let's look at the past season of events to see how the competition has stacked up in NA:
HCS 2022: North America Super
#1 – OpTic Gaming
#2 – Gamers First
#3 – Sentinels
HCS 2022 Kansas City
#1 – Sentinels
#2 – Cloud9
#3 – OpTic Gaming
HCS 2022 NA Regionals
#1 – Cloud9
#2 – OpTic Gaming
#3 – eUnited
HCS Kickoff Major
#1 – Cloud9
#2 – eUnited
#3 – FaZe Clan
Naturally, there are certain teams recurring here.
Halo World Championship 2022 – A Three Horse Race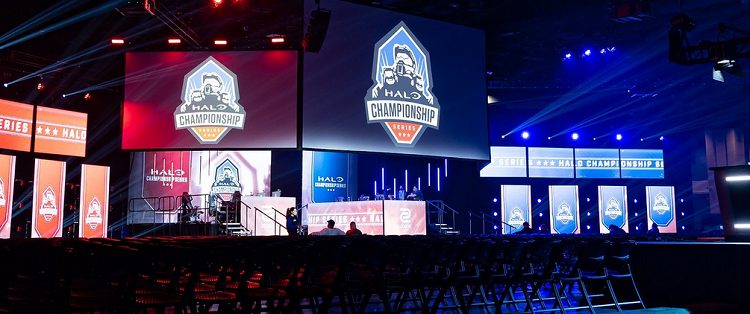 So, in our opinion, there are three favourites for this event. Accordingly, all year long in NA, only three teams have managed to win events.
Namely, these are OpTic Gaming, Sentinels and Cloud9. Considering recency bias and overall performance, here's how we'd rank them heading into the final event of the year:
#1 – OpTic Gaming
#2 – Cloud9
#3 – Sentinels
We simply have to favour OpTic. After an incredible Orlando Major, where they lost 2 maps in total, they demolished Cloud9 in the Grand FInal.
Regardles, anything can happen and we can't wait to see how it turns out!
For more esports news, visit: https://www.esportsguide.com/news