Following three weeks of exciting gameplay, we're drawing near to the major. Indeed, the Call of Duty League is gearing up for the first of five Stage Majors across the season. Accordingly, the CDL Stage 1 Major is simply days away and we're here to divulge all the details. Read on to learn How to Watch!
Event Background
Starting all the way back on 11th February, the Atlanta Home Series kicked off everything. Three weeks later, both Groups A and B have concluded and we have our seeds for the first Major. Accordingly, the event will take place across four days, from the 3rd-7th March All of the 12 teams will be competing to figure out who stands on top right now for the $500,000. Here are the 12 franchised teams:
Dallas Empire
LA Thieves
New York Subliners
Minnesota ROKKR
Seattle Surge
London Royal Ravens
Atlanta FaZe
OpTic Chicago
LA Guerrillas
Paris Legion
Toronto Ultra
Florida Mutineers
For context, here is how the final standings of the season have concluded: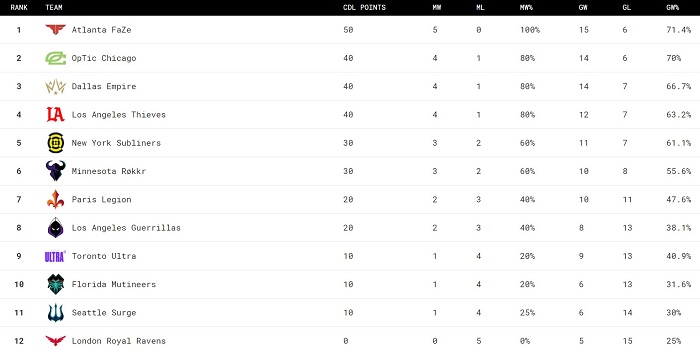 Format
The 12 teams have been placed in the bracket as follows: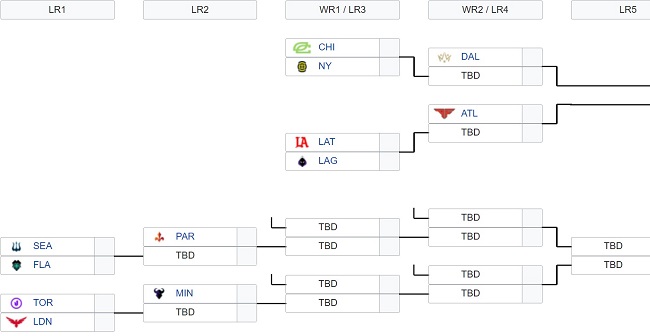 Indeed, each series will be a best of 5 series within this double elimination bracket. It's quite simple really: teams in the Lower Bracket have one chance before they pack their bags.
Schedule for CDL Stage 1 Major (CET)
With regards to the schedule, we've got the first three days listed below for the time zone of CET:
3rd March 2021
21:00 – Toronto Ultra vs London Royal Ravens
22:30 – Seattle Surge vs Florida Mutineers
4th March 2021
21:00 – Los Angeles Thieves vs Los Angeles Guerillas
22:30 – Chicago Huntsmen vs New York Subliners
5th March 2021
21:00 – Atlanta FaZe vs TBD
22:30 – Dallas Empire vs TBD
00:00 – Paris Legion vs TBD
01:30 – Minnesota Rokkr vs TBD
Watch CDL Stage 1 Major stream on esportsguide.com
You can also watch the CDL Stage 1 Major live stream via our very own website. Providing an extensive list of the biggest esports together with streams for each esports match live today or upcoming matches
Predictions
In terms of predictions, the competition has never been so stacked. Indeed, the community continues to support the phrase 'the most competitive season of competitive Call of Duty ever' and that has reigned true.
Regardless, I'll be trying to split the competition into several tiers of threat. Let us know if you agree with them.
The Top Dogs
Overall, I'd say there are 4 clear teams which anyone would agree are some of the obvious threats. Here they are:
Atlanta FaZe
Chicago Huntsmen
Dallas Empire
Los Angeles Thieves
These four teams had the best record in the group stages. However, I'll emphasis the fact that none of them are entirely 'dominating' the competition – yet, showing off the consistency to close out series. Expect these four teams to brawl whenever they meet in the bracket.
Inches Away from the Top
The next tier I would consider as teams that still have a small amount of work to do, taking better teams to the distance without being able to close it out. Here they are:
New York Subliners
Minnesota ROKKR
Paris Legion
Los Angeles Guerillas
Out of these four, I'm obliged to point out that New York Subliners and Paris Legion are on the rise and are looking very deadly heading into the bracket. Both have played teams tough together with ROKKR and Guerillas. While they aren't expected to entirely win, it won't be a surprise if they steal a series or two.
The Underdogs
The remaining four teams simply need to work on a few thing – for the most part, finishing on the sour side of 3-2 map counts against top teams consistently:
Toronto Ultra
Florida Mutineers
Seattle Surge
London Royal Ravens
Notably, the presence of Florida Mutineers is a massive surprise – yet, they continue to struggle and struggle. Otherwise, the other three are just simply at the bottom end, yet have the ability to take a series should they captivate on the mistakes of others.
For more esports news, visit: https://www.esportsguide.com/news