American esports organization Tempo Storm has just announced that they will be releasing their main Rainbow Six team. Here is their announcement:
Tempo Storm releasing Rainbow Six team – Why?
We've seen multiple cases of organizations and teams exiting esports titles, and releasing rosters during this global crisis in 2020. And this time round, it's a similar case with Tempo Storm, as the pandemic "has rendered their stay in the NA Pro League unsustainable". They are currently discussing with their players to find them new homes in the Rainbow Six Siege scene if they choose to continue competing. They are also working alongside Ubisoft to find a solid replacement for their NA Pro League spot so that the other competing teams are not affected by this departure.
The Tempo Storm roster was dear to many, despite not having as much success as some other rosters, the team was showing some promise throughout the year.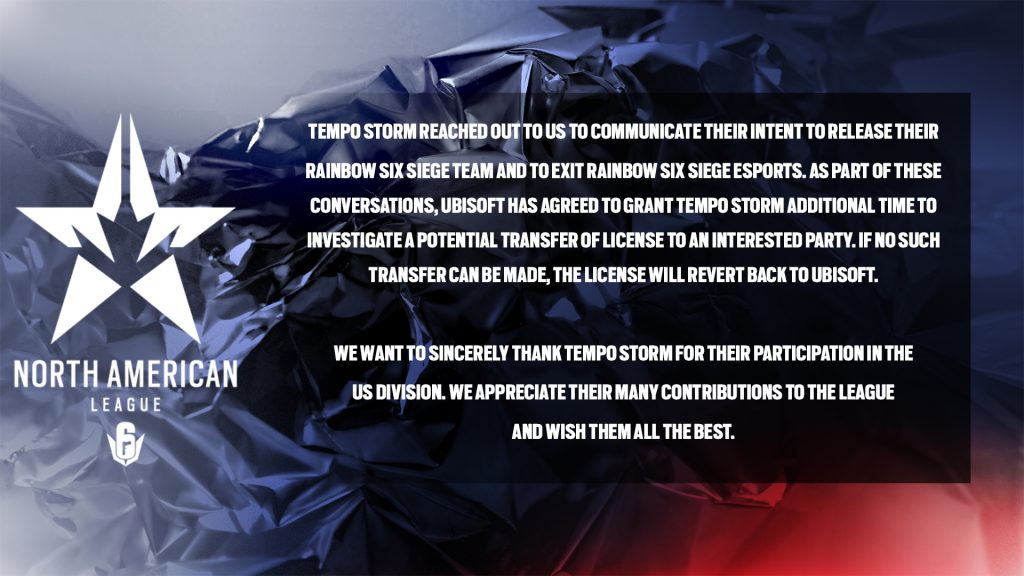 Here are some of their best results:
It's been a very disappointing year for the North American Rainbow Six Siege scene, as organizations like Evil Geniuses, Luminosity, and eUnited have all departed the esport. This leads to many doubts with regards to Ubisoft's plans moving forward with the future of their R6S esports scene.
Be sure to keep yourself updated on www.esportsguide.com for more esports news!