Yesterday came the conclusion of the 8th week of The Grid in Europe, and we saw Team BDS dominate the region with an exceptional performance which led them to win the event without dropping a single game in the playoffs.
Team BDS wins The Grid EU Week 8 – How did they do it?
Team BDS were placed in Group C & D in the Week 8 group stage. Their first match was against Triple Trouble, which they beat 3-2 and advanced to the semifinals. After that match Dignitas where up next. They were a much stronger opponent, however BDS still managed to take them down with a 3-2 win. This victory in the semifinals meant that they were qualified for the playoffs.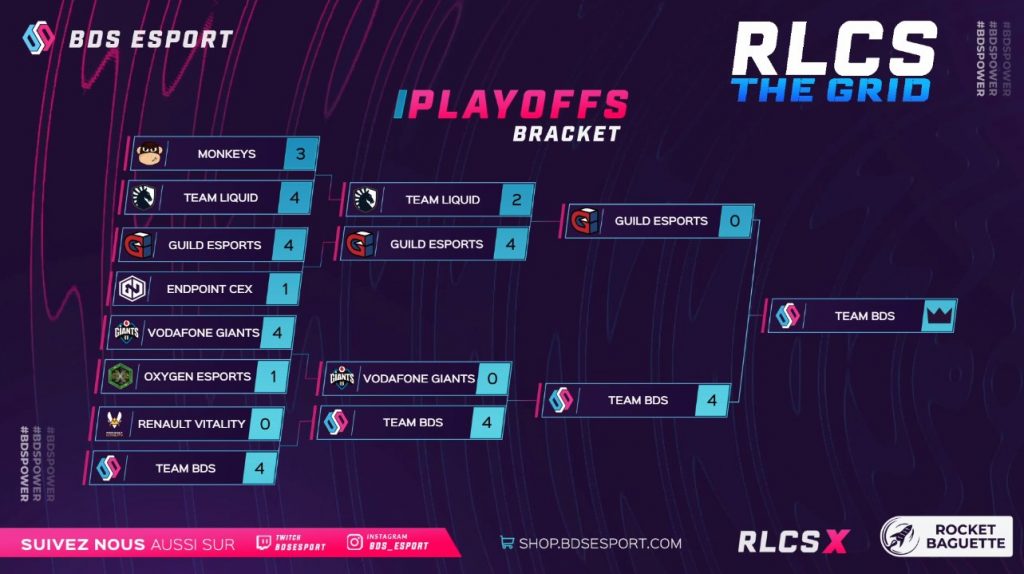 Playoffs
Their first match in the second stage of the event was verus Renault Vitality. Despite their strong teamwork and chemistry, Vitality have gotten demolished with a clean 4-0 score by BDS. This progressed the team through the semifinals where they would meet Giants and take them on for a spot in the Grand Finals. Team BDS won the series 4-0 and earned their spot in the Grand Finals versus Guild Esports. Guild are one of the strongest teams in the Europe and would have certainly given them a challenge. BDS kept to their strengths and beat Guild with another 4-0 to not only win Week 8 of The Grid, but also win the event without a single game loss.
How are BDS this good?
Since their most recent roster change, the team has been unstoppable and have been the most dominant team in the region so far. Here are some of their placement in September alone:
It's very interesting to see a somewhat fresh roster dominating the scene to keep things exciting with regards to Rocket League esports. Who knows? They could be the next Dignitas or Renault Vitality? At this current time, it is very hard to predict what will become of Team BDS. However, they are certainly on the right path, and are definitely a team to be fear for the events to come.
Be sure to stay tuned to www.esportsguide.com for all your latest esports news!