Yesterday, the highly anticipated R6 European League Season 1 Stage 2 came to an end. Team BDS dominated Europe with an extraordinary performance and were crowned champions.
Final Standings + Winnings
1st – € 15,000 – BDS Esport
2nd – € 10,000 – Team Empire
3rd – € 7,500 – Tempra Esports
4th – € 6,000 – Virtus.pro
5th – € 4,000 – Natus Vincere
6th -€ 3,000 – Team Secret
7th – € 2,500 – G2 Esports
8th – € 2,000 – Chaos Esports Club
9th – Team Vitality
10th – Rogue
How did they do it?
The tournament format for the R6 European League Season 1 Stage 2 was a Round-Robin league format. This allowed BDS to verse every single team in the event, which certainly helped them get the maximum points.
Team BDS kicked off the event with some outstanding performances which allowed them to lead the pack with a 4-0-0 score line, remaining undefeated by the 4th playday. However in the 5th playday, they matched up versus Team Vitality, which held their ground versus BDS, and tied the match 6-6. This meant that BDS received their first tie at the event, and were still at the top of the leaderboard.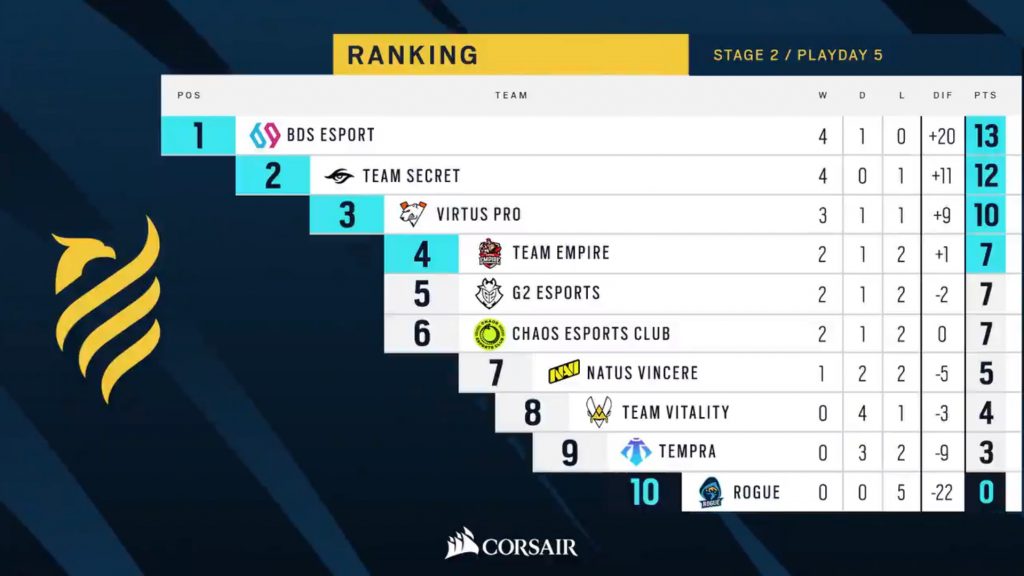 The games continued, and BDS had another successful playday after taking down Team Secret in Playday 6. Although, when the 7th playday came around, Natus Vincere showed up and had a brilliant performance versus BDS which caused their first loss at 2nd stage of the R6 EU league. This loss versus Na'Vi meant that the team was 5-1-1 in terms of scores, and that Team Secret was catching up.
BDS upped their game, and won the final 2 playday matches to seal the deal and after 4 intense weeks of competition, BDS ended the event in 1st place.
What did this event mean for Europe?
The top 4 teams at the R6 European League Season 1 Stage 2, have all received a spot at the Six Major, which is to be held between the 6th and 8th of November. The event will feature a huge prizepool of $125,000 USD to be distributed to all participating teams.
Be sure to keep yourself updated on www.esportsguide.com for more esports news!