In our last recap for the LCS, we had ourselves a tie between Cloud9 and 100 Thieves. Since then, some major matches have taken place and the leaderboard has shifted accordingly. Bearing this in mind, read on for our very own LCS Spring 2021 Week 4 Recap!
LCS Spring 2021 – Current Standings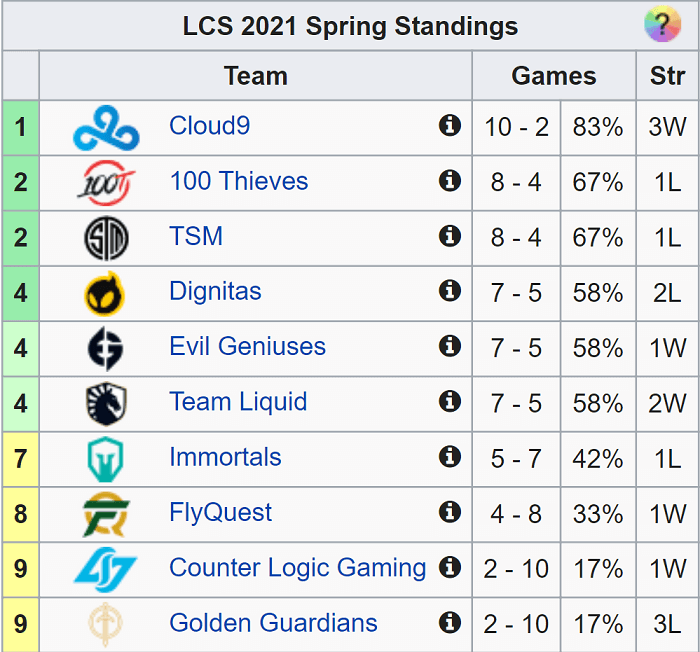 And those are your standings. Let's dive into some key matches which really had a big effect on this week:
Team Liquid vs TSM (0-1) – a matchup which determined the middle of the leaderboard especially with Team Liquid on the rise – they get shut down by TSM who's now tied for second.
Cloud9 vs Evil Geniuses (1-0) – a key victory for Cloud0, it further helped them build their lead after an earlier win against Golden Guardians – their biggest win is yet to come
Cloud9 vs 100 Thieves (1-0) – this has been the game of the season so far – for all the marbles. Both teams contesting for the lead, with Cloud9 coming out on top. Just like that, we have an established leader.
Team Liquid vs Immortals (1-0) – another essential matchup, thanks to a win over Immortals, they help guarantee themselves a top 6 finish at this point in time.
What's left for the LCS? We've got two more weeks of exciting gameplay in which the leaderboard could shift.
For more esports news: https://www.esportsguide.com/news