It's been a while since the last competitive StarCraft II event. Accordingly, the final event of the ESL Pro Tour 2020/21 Circuit is almost here – IEM Katowice 2021. Indeed, you can sit back and enjoy knowing all the details in this episode of How To Watch!
Event Background
For some background, this online event forms part of the ESL Pro Tour 2020/21 Circuit. Also known as the Masters Championship 2021, this looks to be the ultimate event of the season. Accordingly, with $250,000 on theline, the event will run from the 20th February up to 28th February.
Bearing this in mind, the top competitors in the world have qualified for this stage:
A Group – TY, Maru, Clem, Solar, ShoWTimE, TBD
B Group – Serral, INnoVation, SpeCial, Dark, TIME, TBD
C Group – Reynor, Trap, Zest, HeRoMaRinE, Astrea, TBD
D Group – Rogue, Stats, Cure, PartinG, Neeb, TBD
Four spots remain to be claimed prior to the main event.
Format
In terms of format, there's a lot to go through here. Currently, a Round of 36 is being played out between 16 players – 4 of which will claim the remaining spots in the Group stage as outlined above.
Following the completion of that, the main event kicks off on the 22nd February.
Starting with the Group Stage, the four groups of six will fight through a round-robin. Accordingly, that means each player will match up against one another once, in a best-of-three. Furthermore, at IEM Katowice 2021, teams are fighting to be in the top three of each group.
First gets a one-way ticket to the Quarterfinals
Second and third progress to a Round of 12
Following the Group Stage, an intense Playoff awaits us! The four heats have a Round of 12, Quarterfinals, Semifinals and Finals in that order. Matches will be played BO5 except for the Finals, which look to be an epic BO7 showdown.
And then finally, we will have our winner.
Schedule for IEM Katowice 2021
With how intense the schedule is, I've had to take a different approach then usual. In fact, ESL has the entire tournament schedule nicely summarized in the following illustration for you all. For more info, visit ESL's event page.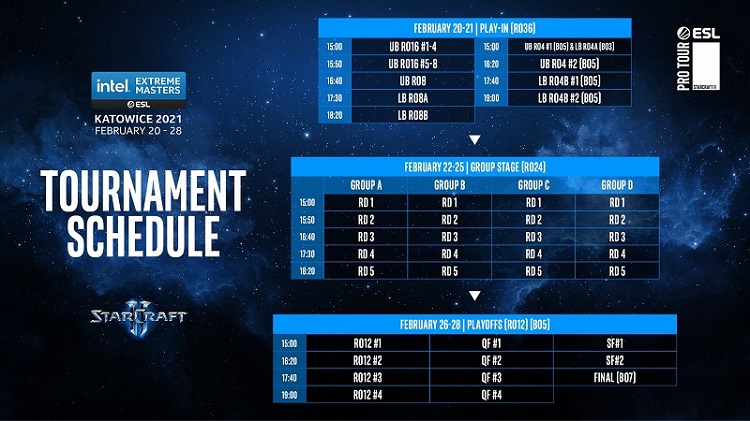 Watch IEM Katowice 2021 stream on esportsguide.com
You can also watch the IEM Katowice 2021 live stream via our very own website. Providing an extensive list of the biggest esports together with streams for each esports match live today or upcoming matches.
Predictions
With regards to predictions, although some players are yet to qualify, there is already an idea of how these competitors stack up. In fact, across the entire season, players have been racking up points through their performances. Take a look for yourself at the top 10 scorers heading into this ultimate event:
TY – 3162
Rogue – 2845
Serral – 2830
Reynor – 2702
Maru – 2405
Trap – 2387
Stats – 2330
INnoVation – 2155
Clem – 2127
Zest – 1845
All 10 of these names are definitely threats and contenders to take it. Naturally, many look to TY as the favourite. However, placing third at the DH SC2 Masters Last Chance 2021 Qualifier has thrown some doubt. Indeed, competitive StarCraft II can be quite an 'on-the-day' esport – everybody needs to bring their A-game and fight to show their worth.
Here at esportsguide, we can't wait to see how it all turns out.
For more esports news, visit: https://www.esportsguide.com/news