It's been 2 weeks and we're already in the playoffs of the European IEM Beijing. Only 8 teams are left, and the matches remaining are sure to be good ones! In this article we'll be covering the IEM Beijing 2020 EU Playoffs Preview.
IEM Beijing 2020 EU Playoffs Preview
G2 vs FaZe
The highlight of the day will certainly be G2 esports versus FaZe Clan. With the recent roster moves of NiKo to G2 and Olofmeister returning to professional Counter-Strike with FaZe, the game has so much importance.
Astralis vs Natus Vincere
Second up we have Astralis taking on the struggling Natus Vincere. Astralis have regained their position in the top 5 in the HLTV rankings with Xyp9x returning to the roster, whereas Na'Vi have been slowly dropping after some disappointing results at BLAST Premier Fall Series and IEM New York 2020 CIS. Despite this, the series will definitely be an exciting one as both teams are hungry for redemption.
What's next?
The IEM Beijing 2020 EU Playoffs are set to continue tomorrow with Complexity facing off BIG Clan at 15:00 CET. Later on at 18:30 CET we'll be seeing another spicy match up as #1 Team Vitality will be taking on #2 Team Heroic in a best of 3.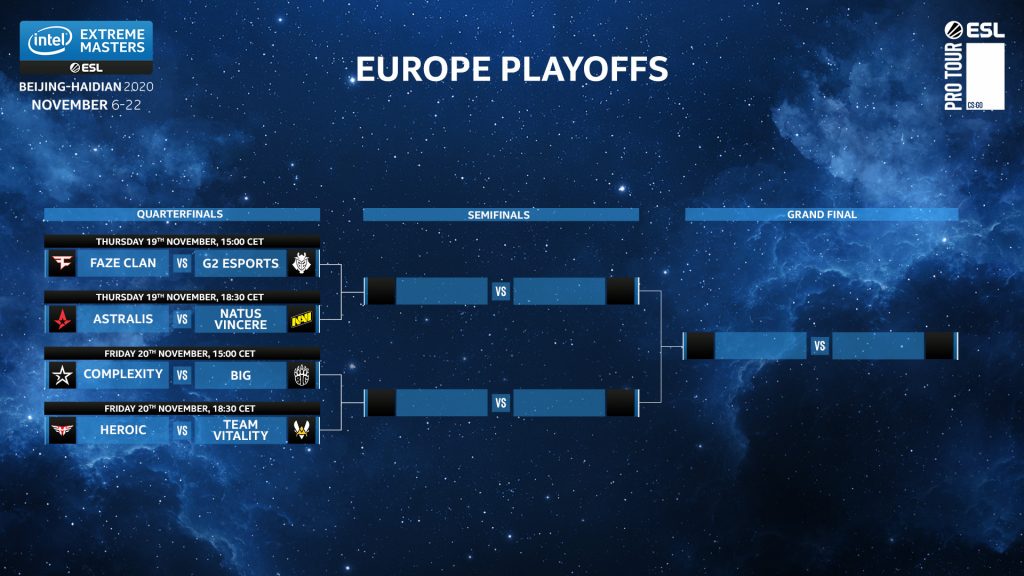 Make sure you don't miss out on any of the action by keeping yourself updated on www.esportsguide.com for more esports news!