This week we'll be seeing some intense Starcraft II competition. This is because the TeamLiquid StarLeague 7 will take place, starting tomorrow! Here is everything you need to know about the event, and how to watch it:
Tournament's background
The TeamLiquid Starleague (also known as TSL) is a tournament series run by TL.net. It all started in 2008 during StarCraft: Brood War, and then TSL3 switched the league to StarCraft II. The first TSL event for SCII was hosted in 2012, and this will be their 5th one.
How to qualify for the main event
All of the teams participating in the TeamLiquid StarLeague 7 have qualified through 2 different options. For the most part, players had to qualify through regional qualifiers. 6 from the European qualifiers, 5 from the Korean qualifiers, and 4 from the Americas qualifiers. The final player is Dark, and he was the only player invited to the event due to his win in the previous edition.
Prize distribution for the TeamLiquid StarLeague 7
A total of $31,000 USD will spread out between all participants. This is how the prize money will be distributed:
1st – $9,000
2nd – $4,500
3rd – $3,000
4th – $2,000
5th-6th – $1,500
7th-8th – $1,200
9th-12th – $900
13th-16th – $625
Tournament Format
Since this is the main event, there will be no group stage. Here, the 16 players play it all out in the double-elimination bracket. The round of 16, losers rounds 1 & 2 are all best of 5, whereas the rest are best of 7. The winner of the Grand Final is pronounced TeamLiquid StarLeague 7 champion
Players Participating at TeamLiquid StarLeague 7
A total of 16 players are taking part in this event. Here is a full list of them below, separated by their preferred race:
Protoss:
MaxPax – PSIStorm Gaming
Trap – Afreeca Freecs
Zest – Dragon Phoenix Gaming
Zoun – Alpha X
Has
Neeb – Ting
Terran:
Clem – Team Liquid
HeRoMaRinE – Mousesports
souL – Cascade
Cure – Dragon Phoenix Gaming
SpeCial – PSIStorm Gaming
TIME – KaiZi Gaming
Zerg:
Dark – Dragon Phoenix Gaming
Reynor – Team Qlash
Serral – ENCE Esports
Armani – Afreeca Freecs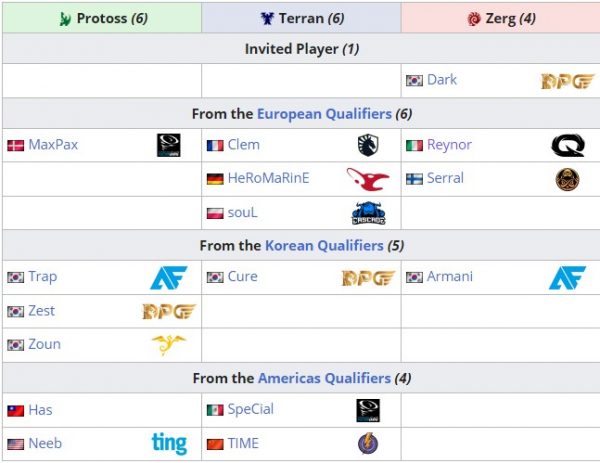 Schedule list for the TeamLiquid StarLeague 7
The event is intended to play out between the 12th and 27th of June. It will all start with Double-elimination playoff bracket, with the following matches:
Round of 16 – Saturday, June 12, 2021:
15:00 CEST – Zoun vs Dark
16:00 CEST – Special vs Cure
17:00 CEST – Has vs Clem
19:00 CEST – Zest vs Armani
20:00 CEST – HeRoMaRinE vs TIME
21:00 CEST – Reynor vs MaxPax
Round of 16 – Sunday, June 13, 2021:
15:00 CEST – Trap vs Soul
16:00 CEST – Serral vs Neeb
Streaming platform list
The TeamLiquid StarLeague 7 will stream on the official Team Liquid twitch channel here. Unfortunately this will be the only broadcast for the event, and it will be casted in English.
Watch the TeamLiquid StarLeague 7 stream on esportsguide.com
You can also watch the TeamLiquid StarLeague 7 live stream via our very own website. Providing an extensive list of the biggest esports together with streams for each esports match live today or upcoming matches.
Predictions
It's not always easy to place predictions on competitions as packed as this. Without putting a bias in the way and looking at the recent SCII events, it's fair to say that Reynor, Clem and HeRoMaRinE have the highest odds heading into the tournament. We're sure that they'll all put on a spectacular show, but until then… Be sure to keep yourself updated with www.esportsguide.com for all your esports news!