It's time! After an eventful regular season, the PMPL NA Finals 2021 are finally here and ready to entertain us. Accordingly, in this episode of How to Watch, we'll be providing all of the viewership details you need to enjoy this incredible PUBG Mobile event coming later this week!
Event Background
As I'll reiterate, this Finals event is perfectly timed following an exciting regular season. Teams fought tooth and nail to earn one of the 16 spots on the line. With these spots, teams will now compete for mainly, a seed for the PMPL Americas Finals which is only reserved for the top 5.
Running from the 16th to the 18th April, it looks to be a weekend to remember for these pro teams. Indeed, here they are listed out:
Ghost Gaming
Nova Esports NA
XSET
The Unnamed
Lazarus
Mezexis eSports NA
The Panthers
Enigma Fan Club
PassionFruit
19esports
Knights
LeveLx
Syndicate
TeamJCR
The Hitlist
Helping Quit Addiction
Format
In terms of format, the event is relatively simple considering how short a weekend is following such a long season. Specifically, a total of 18 matches will decide the competition – with 6 matches a day on Friday, Saturday and Sunday.
Teams will be earning points through fishing for kills and placing as high as possible. Accordingly, here's what the Points Distribution looks like for the event:
Kill Points – 1 per kill
Placement – 1st (15), 2nd (12), 3rd (10), 4th (8), 5th (6), 6th (4), 7th (2), 8-12th (1), 13-16th (0)
Schedule for the PMPL NA Finals 2021
According to a PUBG Mobile Esports Twitter page, the PMPL NA Finals 2021 will kick off each day at the same time – 7pm EDT/4pm PDT. And that's it really – a nice and simple schedule for you.
Watch the PMPL NA Finals 2021 on esportsguide
You can also watch the PMPL NA Finals 2021 live stream via our very own website. Providing an extensive list of the biggest esports together with streams for each esports match live today or upcoming matches.
Predictions
Naturally, we'll base off our predictions on the back of the standings of the regular season. Let me splay them out for you below: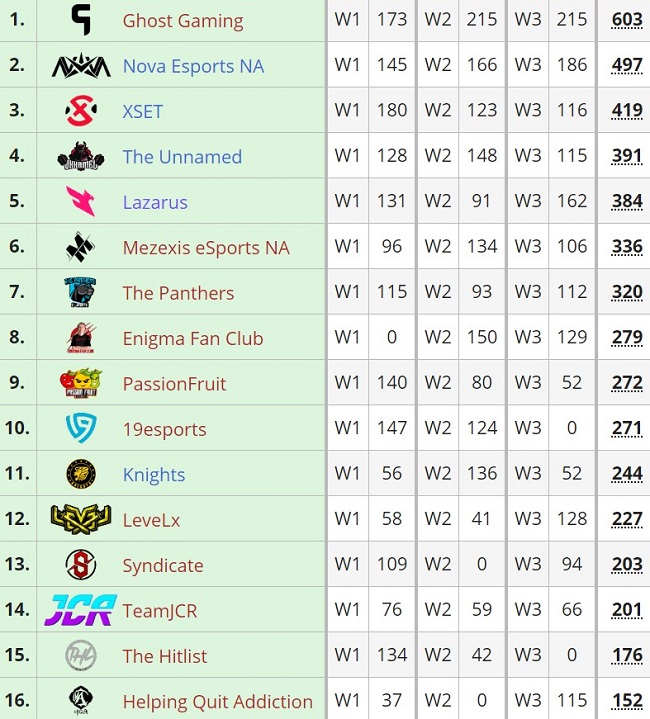 So, let's reflect a little on this leaderboard and make some statements.
To begin with, I think it's quite evident that Ghost Gaming is clearly dominant and is the heavy favourite heading into this finals event. Indeed, they dwarf the remaining competition, having a lead of substantial 100 points.
Meanwhile, matters are way more contested further down. Accordingly, I'd consider that Nova Esports NA is the clear second placed team, with another gaping margin between themselves and third place.
Now, XSET, The Unnamed and Lazarus make up the next tier of competition, as they contest for the top half of the competition.
Then again, we can talk about tiers all we want, but competitive battle royale is never about past statistics. It all matters on whether or not the team shows up on the day and can remain consistent for the three days of competition.
In terms of strategy, it's clear that placement does have a higher weight than kills, but to win teams will need to strike a balance. Getting a few kills but dropping low in placement and vice versa is definitely not what you want.
For more esports news, visit: https://www.esportsguide.com/news