Flashpoint is back for CS:GO! Accordingly, the organizer came out of nowhere this past month to announce the Flashpoint Season 3 CS:GO event. Indeed, aimed to provide some awesome European competition, we here are also ecstatic at esportsguide. So much so, that you can enjoy our very own 'How to Watch' featured article below!
Event Background
As I'll reiterate, this is the pinnacle of European CS:GO. Taking place over 20 days, from 10th May to the 30th, there's a lot to fight for? Prize pool may still be unannounced, but the points at this event are quite stacked – a total of 1600 RMR Points for first place! So much so, directly qualified for this event are the top 11 teams as per RMR points attained so far in the region:
Team Vitality
Ninjas in Pyjamas
Heroic
BIG
Fnatic
G2 Esports
FunPlus Phoenix
OG
Astralis
ex-North
FaZe Clan
Of course, 11 is an odd number. To spice things up, Flashpoint further down the line will be hosting a Closed Qualifier where 5 more spots will be earned. Some favourites here include Complexity Gaming, Sprout, mousesports, ENCE and Dignitas to name a few. Regardless, we welcome any surprises!
Format
What format are we working with here? Nothing new, but perfectly classic. The top 16 teams making it to the event will be thrown into a massive Double-Elimination bracket to play BO3 matches. All 16 teams will start on the same foot in the upper bracket – that's why we have so much CS:GO to look forward to.
Indeed, the format at Flashpoint Season 3 is the perfect viewership experience to catch up on European CS:GO.
Schedule for Flashpoint Season 3
The schedule will be updated shortly as it is currently unavailable.
Watch the Flashpoint Season 3 on esportsguide
You can also watch the Flashpoint Season 3 live stream via our very own website. Providing an extensive list of the biggest esports together with streams for each esports match live today or upcoming matches.
Predictions
For those unaware, these RMR points stand for Regional Major Rankings 2021. Devised by Valve, it's a great way to now stratify all regions and sort the best of the best for seedings.
Furthermore, they're a great way to supply our predictions for events. Bearing this in mind, here's how the chart looks for CS:GO right now: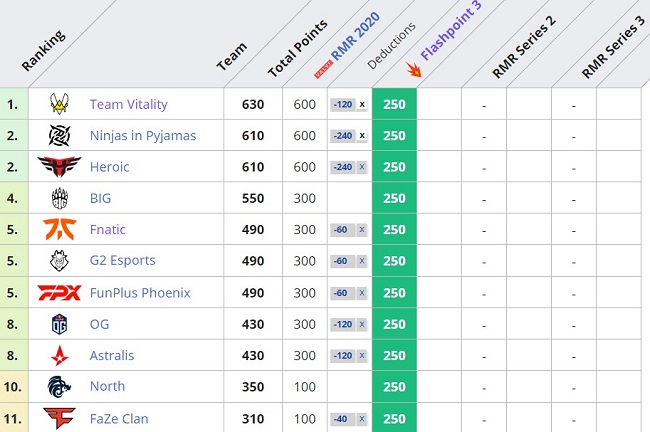 These predictions, plainly, are however, quite subjective. Indeed, points had to be awarded based on seedings to last year's major which never happened – ESL One: Rio 2020.
Accordingly, let's turn our eyes to a recent event – the ESL Pro League Season 13. Now everything's a much different story here. Based on Heroic's epic win here, they look to carry the momentum forward into this event to go back to back. Allow me to list the remaining placements of the EU teams below:
Heroic (1st)
Ninjas in Pyjamas (3-4th)
Astralis (5-6th)
G2 Esports (7-8th)
Team Vitality (13-16th)
FaZe Clan and Fnatic (17-20th)
BIG (21-24th)
As you can tell, some teams didn't participate in this international event, which makes the predictions even more difficult. What I'll repeat and am certain of however, is that Heroic are the favourites heading into this regional event. They'll be trying to prove themselves once again.
Otherwise, we haven't had a regional major in a while. This is the perfect opportunity to see how everyone stacks up at this point in time.
For more esports news, visit: https://www.esportsguide.com/news