One of the CS:GO tournament's taking place this week, the DreamHack Open Sevilla 2019 would ultimately not have happened on an average year and at the moment, is set to be a one-off event.
It is essentially serving the place of DreamHack Open circuit, after the Montreal Stop for the circuit was canceled due to it colliding with another the CS:GO tournament, the StarLadder Berlin Major. As such, all things considered, this may be the first and only DreamHack Open Sevilla so if it nothing else, it makes it a very special event to watch CS:GO 2019 action as we head into a new calendar year. As such, we would advise you find a Dreamhack Open Sevilla stream to enjoy the action.
There are plenty of other reasons to watch this CS:GO tournament a the weekend though, Such as the high-quality gameplay that will be on show – with a $100,000 USD prize pool up for grabs, half of which will go directly to the winning team. We have had a taste of what is to come already over the open circuit so far, as well as in the qualifiers.
Let's take a look at the DreamHack Open Sevilla 2019 and see what where we stream the tournament, who will be taking part, and what we can expect from the event.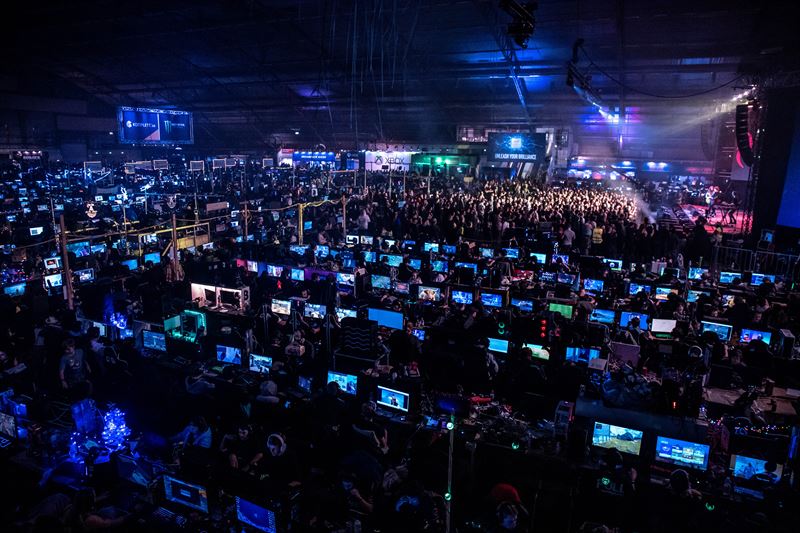 How to qualify for the main event
The majority of the teams that will be participating in the DreamHack Open Sevilla 2019 were invited to the tournament by the organizers. As such, there was no need to qualify for the tournament for 6 of the 8 teams that are due to take part. However, there are two teams who have qualified via either the European or Iberian Qualifier.
In terms of the European Qualifier, the concept was fairly simple, with an open qualifier and a closed qualifier. Nearly 180 teams participated in the open qualifier, with the 4 top teams going from that stage into the closed qualifier, where 4 teams had already been seeded. These 8 teams in total then battled it out, with one spot available in the Seville event. This spot was won by BIG.
The Iberian Qualifier had a few more stages involved in it. This began with the Dream Cup, one held in Spain and one in Portugal. In each nation, there were a couple of divisions. Those who finished top of the division then progressed directly to the Iberian Closed qualifier. While the remaining top teams from each nation played a "Decider" stage.
This team then gained entry to the closed qualifier also and joined the other two team nation teams- meaning 4 in total from Portugal and Spain. These teams by-passed the open qualifier, where there were 22 teams in total, 4 also went through to the closed qualifier. Thus 8 teams joined another 8 invited teams. After this grueling process, only one team went through to the DreamHack Open Sevilla 2019, who entered the closed qualifier as an invited team anyway. Namely, the Movistar Riders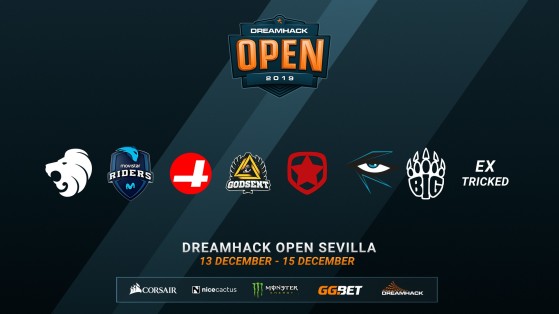 Tournament format
The DreamHack Open Sevilla 2019 tournaments function via a Group Stage made up of two groups of 4. This is followed by a Play-off stage. This consists of a semi-final, where the two top teams from the two groups progress into. Top of Group A, playing second in Group B and vice versa. The semi-final winners will then progress to the finals, where the winner of which will win the series and that $50,000 prize money but getting into the semi-finals alone will still see you win some cash.
This is how the Group Stage pans out:
Two double-elimination format (GSL) Groups
Each group has 4 teams
Opening & Winners' matches are Bo1
Elimination & Decider matches are Bo3
Top two teams from each group advance to the Playoffs
This is how the playoffs pan out:
Single-Elimination bracket
All matches are Bo3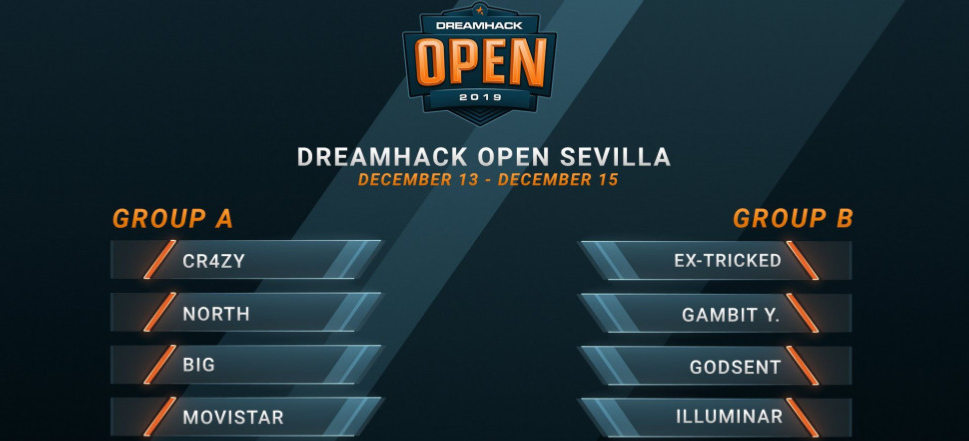 Schedule
Friday, December 13
11:00 CET  CR4ZY vs.  Movistar Riders BO1
12:30 CET  ex-Tricked vs.  Gambit Youngsters BO1
14:00 CET North vs.  BIG BO1
15:30 CET GODSENT vs.  Illuminar BO1
17:00 CET Group A – BO1 Winners' Match
18:30 CET Group B – BO1 Winners' Match
Saturday, December 14
13:00 CET Group A – Losers' Match BO3
16:00 CET Group B – Losers' Match BO3
19:00 CET Group A – Decisive match BO3
22:00 CET Group B – Decisive match BO3
Sunday, December 15
13:00 CET Semifinal #1 BO3
16:00 CET Semifinal #2 BO3
20:00 CET Grand Final BO3
Streaming platform list
As is always the case with these tournaments, you have a wide selection of options open to you when it comes to viewing them. The first port of call should be Twitch.tv. In addition, there is YouTube, which always has a selection of the streams to watch them on. While many esports specialist streaming sites also offering Dreamhack Open Sevilla streams.
There will also be the option to stream matches by betting on them at online bookmakers. The hunt for streams may be tougher than usual for the Dreamhack Open Sevilla as there are 2 other CS:GO tournaments this weekend but the top sites will definitely offer all the tournaments so you can take your pick.
One of the best sites for watching the game. The perfect guide for users that are new or already into esports. Providing an extensive list of the biggest esports together with streams for each esports match live today or upcoming matches.
Whatever you choose, make sure you don't miss out on the opportunity to see who brings home that $100,000 in winnings.
Predictions
This is going to be a tough one to call, but the team with the best form of the last couple of months has been the Germany-based outfit Cr4zy, who are made up of players from across Europe. They came fourth in Atlanta last month and came out top of the pile a month prior to that in Rotterdam. The only team who have shown better form is Heroic, but they won't be competing in this open, so really, Cr4zy will have their eyes set on the big prize.
This is not to underestimate the other teams, particularly, the two teams who have qualified. As they have had to prove their worth to be here they will have that extra fire in their belly. Luckily for them, they are in the same group as one another, so they could benefit from getting points from each other, then just one more win could see them into the semi-finals, and into the prize money. They are also in the same group with Cr4zy, which means if they do progress they can dodge them in the semis, And so, a win against the Danish side, North will be crucial. If either qualified team manages this then they will have a tough game in the semis still but maybe momentum might carry them through to the final.