Today, we'll be seeing some hectic Warzone action on Verdansk. This is because the first iteration of the $300K WSOW (World Series of Warzone) will take place. Here is everything you need to know about the event, and how to watch it:
Tournament's background
This tournament is going to be the first ever World Series of Warzone event. This tournament in particular will cater towards the North American players, and a couple more will follow throughout the Summer Season. There will be tournaments for the European region as well.
How to qualify for the World Series of Warzone event
For the most part, every single team taking part has been chosen by the 5 team captains. These captains are 100 Thieves founder Nadeshot, FaZe Swagg, NYSL Aydan, & streamers Dandangler and TimTheTatman. Yesterday during the draft day, these captains had to pick out 45 teams that will represent them for the tournament.
Prize distribution
A total of $300,000 USD will spread out between all participants. This is how the prize money will be distributed:
1st – $50,000
2nd – $30,000
3rd – $20,000
4th – $15,000
5th – $10,000
6th – $9,000
7th – $7,000
8th – $6,000
9th – $5,500
10th – $5,000
11th-20th – $3,000
21st-25th – $2,500
Apart from this, there is an additional captain's prize pool which will consist of the following winnings:
1st – $30,000
2nd – $15,000
3rd – $13,000
4th – $12,000
5th – $10,000
Overall 1st placing team – $20,000
Tournament Format for the World Series of Warzone
The tournament format follows a very similar tournament we've seen in other previous tournaments. These 150 players will be playing in a custom lobby and will have to gain points through kills and placements. They will play 6 rounds in a row all in a default match of Verdansk Here is how the point distribution works:
1 point per kill
1st place: 2x kill multiplier
2nd-15th place: 1.5x kill multiplier
15th-50th place: No kill multiplier
Teams Participating
A total of 50 teams will take part in this event. Here is a full list of images below, stating the team captain as well as their teammates accordingly: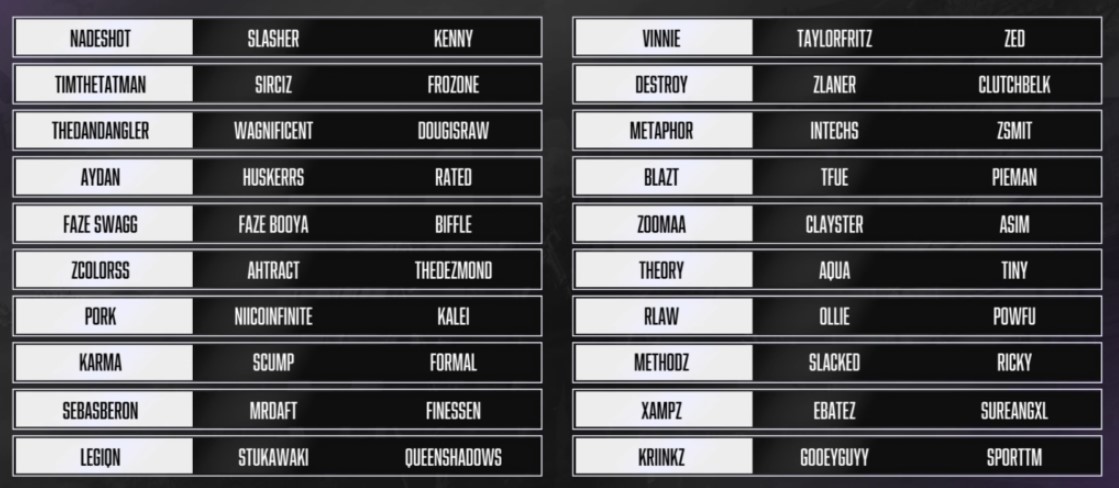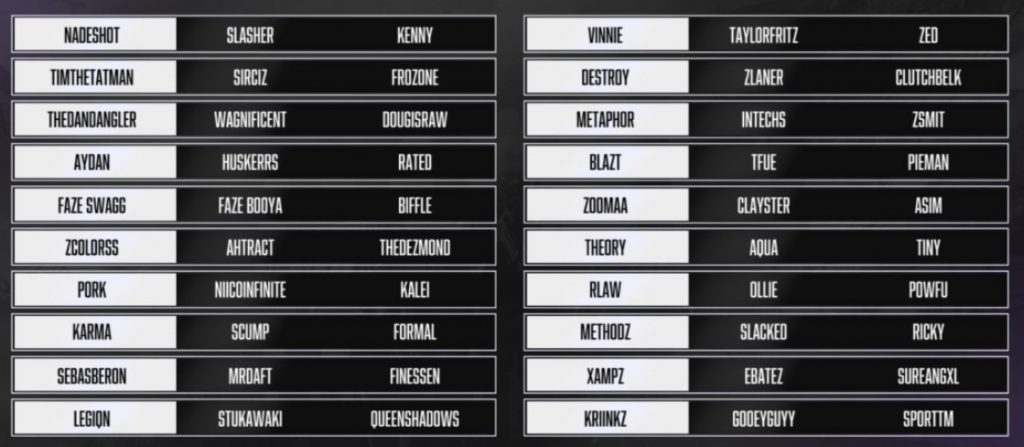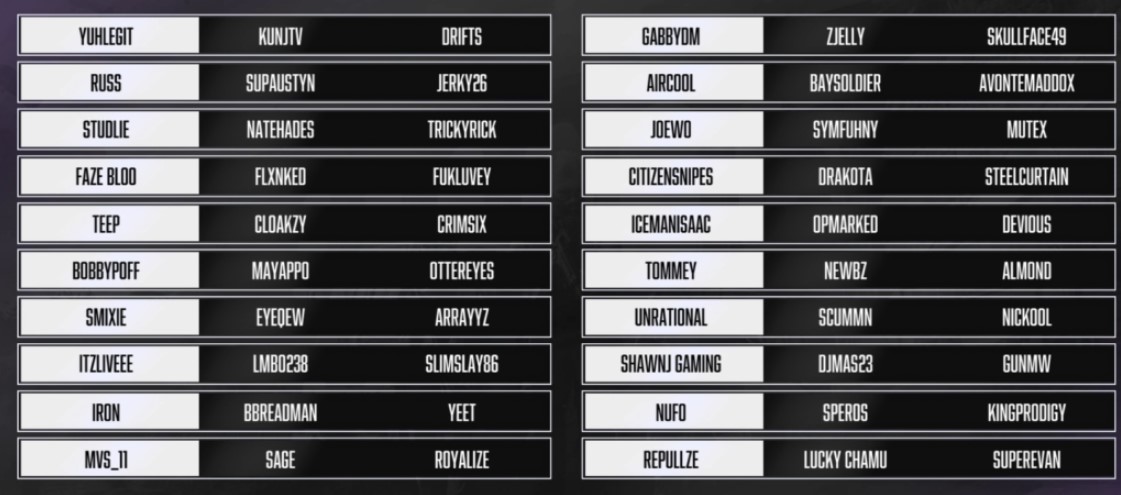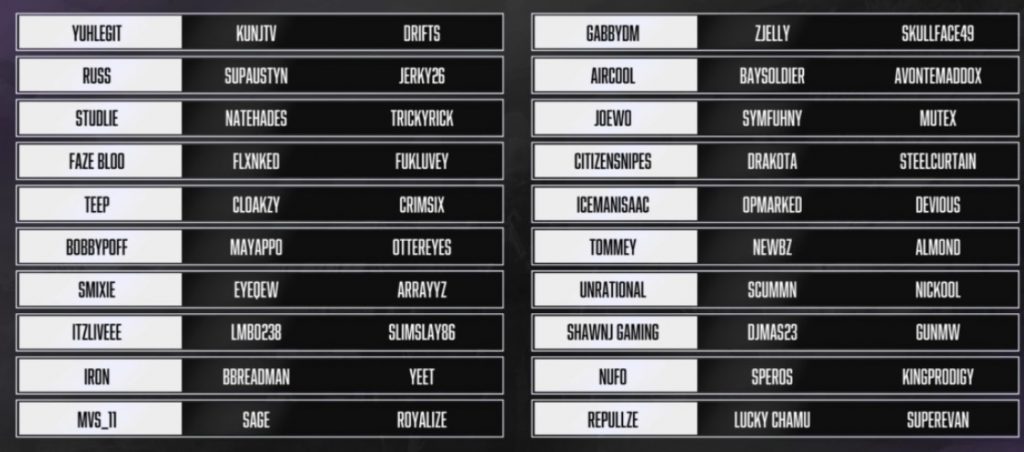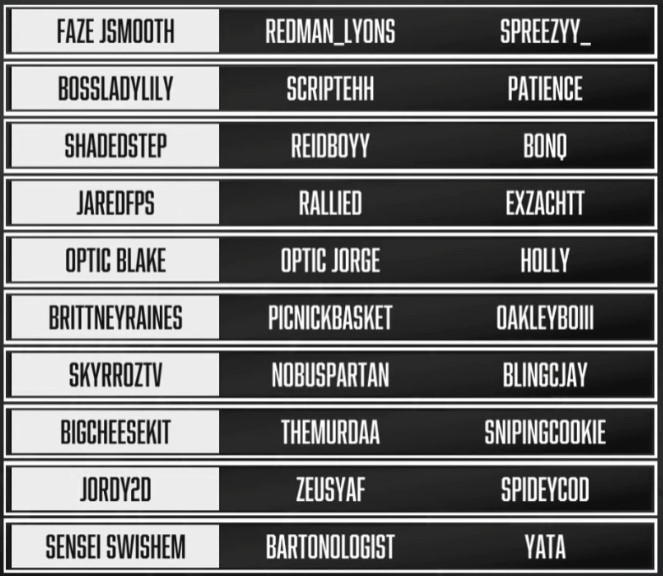 Schedule list for the World Series of Warzone
The draft event of the team choosing took place yesterday, the 22nd of June. Now, the tournament is kicking off today (23rd June). It will all play out on a single day, having 6-straight rounds being played after each other. Here's the schedule:
World Series of Warzone:

23rd June
5pm ET / 2pm PST / 11pm CEST
Streaming platform list
The World Series of Warzone will stream on the official Twitch Rivals twitch channel here. POV's of all participants are all going to be available, so be sure to check out your favourite streamer's perspective!
Predictions
With the squad of Aydan, HusKerrs and Rated winning the unofficial practice match of the tournament we have our odds placed on them for winning the whole thing. However, it's important to keep in mind that Warzone is a battle royale, and anything can happen. We'll just have to see how it all plays out!
Visit www.esportsguide.com for all your esports news!