Indeed, as we previewed, the Call of Duty League Championship 2020 was incredible. With the set stage by Playoffs last week, four teams engaged in a final battle. Accordingly, it's the largest event in competitive Call of Duty history. Dallas Empire are officially the Call of Duty League Champions!
Here's how the bracket progressed to make it two teams from four: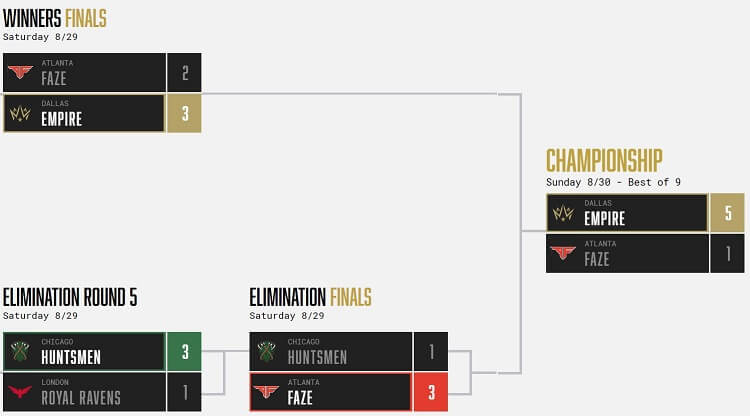 Right off the bat, the games were incredible. Dallas Empire began their run to the final with an essential victory over Atlanta FaZe in the Winners' Bracket. Hence, they received a 1-0 advantage in the grand finals. Otherwise, the fan favourites of Chicago Huntsmen couldn't kick FaZe while they were down.
Just like that, we're at the Finals. Both Dallas Empire and FaZe Atlanta desire to be Call of Duty League Champions. It was here that a brand new record was set for viewership in the Call of Duty League. A raving 331,558 concurrent viewers peaked at one time!
Rather decidedly, Dallas Empire destroyed FaZe Atlanta in the final. Everyone was hoping for a series which would go the distance, but it was done in 5 out of 9 maps.
Dallas Empire walk away with $1,500,000 in their pocket and the title of World Champions apart from the plentiful of swag.
For more news, together with a planned event analysis, visit: https://www.esportsguide.com/news.